Haunted House in Dallas Texas Cutting Edge

Dallas, Texas Haunted House - Cutting Edge
By Kaity Hennessy
FIND THE BEST HAUNTED HOUSES IN TEXAS
Haunted Houses in Dallas, Texas are some of the scariest haunted houses in America. Hauntworld.com tries to review only the best haunted houses in Dallas, Texas. When you are looking for simply the best, scariest, haunted houses in Texas there is no other place to search than Hauntworld.com which offers our guests the best information to find Texas Haunted Houses including the best haunted attractions in Dallas, Texas. There are many haunted houses in Dallas that claim to the best haunted attraction but only one can truly lay claim to the being the scariest haunted house in Texas... Cutting Edge Haunted House in Dallas, Texas.
To learn more about Dallas, Texas Cutting Edge visit their website below:
TO FIND MORE HAUNTED HOUSES IN HOUSTON

"Hell's Half Acre has a fantastic history and was one of the roughest parts of Texas in old Fort Worth. It was the home of gambling, gunfights, murder and mystery," Todd James, co-creator of Cutting Edge Haunted House, said.
The "Acre," a byword for mayhem and hell-raising in the late 19th to early 20th century, was a typical red-light district made up of bordellos, cribs, sport houses, dance halls, gambling parlors and saloons. Many of the unsavory characters that passed through the Acre were looking for nothing but trouble. Infamous gangsters like Butch Cassidy, The Sundance Kid and their hole-in-the-wall gang, Doc Holiday and Jesse James were a few of those characters. It was a place where legends were made, myths were started and mysteries remained unsolved.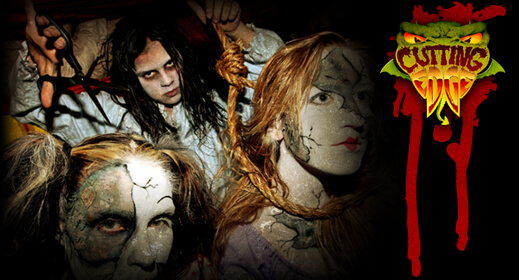 "It's full of some crazy unsolved mysteries and that's the best backbone for any good Haunted House," James said.
Although it was a real place, separating myth from reality is a difficult task for anyone. What is better for a haunted house than to be located in a part of town that is already known for its questionable and haunted past?
One of the long standing murder mysteries that haunt the alleys of Hells Half Acre is that of Sally. Sally was a dance hall girl whose corpse was found splayed out and nailed to the door of an outhouse. No other information is known. One tends to wonder if it is Sally's lost and troubled spirit that wanders the upper levels of the old meat-packing plant. Several crew members have heard the crying of a woman in the empty rooms on the top floor. Considering the history of the building and the land on which it was built, these experiences don't seem that farfetched.
Two other specters are often seen in the old plant, one in the north warehouse and the other in various areas of the old original building where a fire occurred in 1923. Frances Woodruff, "cast mom" and set designer, will not go in the northern warehouse alone, even during the day.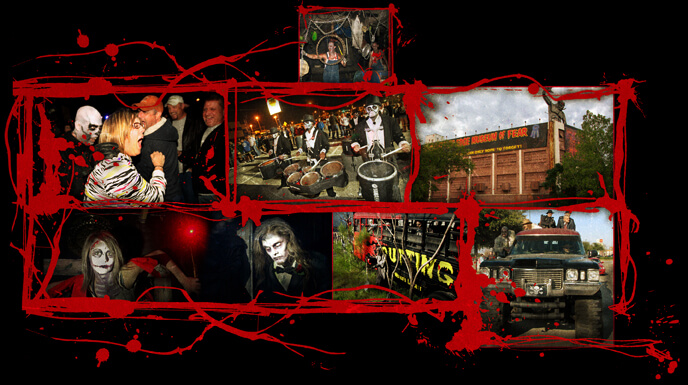 "I've seen something over there," Woodruff said. "You can laugh if you want, but there is something in that part of the building and I will not go over there alone," she says with a shiver.

"There are a lot of strange things that have happened in this old meat-packing plant, stuff that we just can't explain," James says.

Hell's Half Acre was larger than life back in its heyday, and considering Cutting Edge Haunted House is built on those legendary ruins, it's only fitting that this Texas legend remains true to that imagery. Texas is known for "Texas-sized" everything, including scares and special effects.

The entry to the Haunted House sports a massive twenty foot skull that you must pass through to enter the show. Guests wait in line, slowly moving closer and closer to this huge, ominous sculpture with red glowing eyes and smoke billowing from its gaping mouth. The top of the building billows clouds of fog with no less than sixteen massive track light beams blazing through the night sky. In the midst of this impressive light show, a 40' gigantic monster, lovingly named "Jr" looms over the edge of the building threatening to devour anyone that might get too close. The enormity of th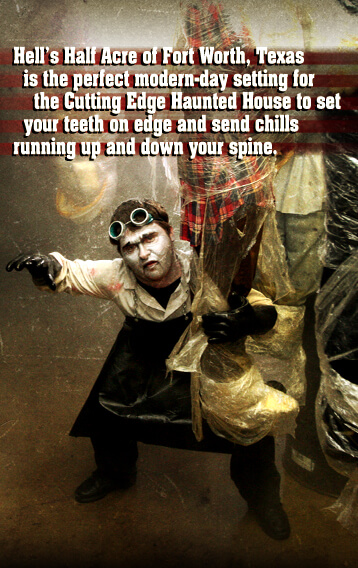 e outside presence is matched only by the sheer length of the show itself. It takes almost an hour to complete. Boasting the Guinness World Record for the largest walk-through haunted house, this experience will test your endurance as well as your fears.

To make Cutting Edge Haunted House "an experience you can only hope to forget", the creators spend all year planning, building and set dressing. The idea is simple, people rely on their senses in frightening situations, if you take those away you make them vulnerable, and when people feel vulnerable they become frightened. If you then add vast enveloping darkness, realistic settings, frightening visual effects, a dynamic cast with Hollywood quality make-up and you have created the horrifically perfect situation for spine tingling, hair-raising, fright.

The haunted house uses the meat-packing equipment as a two-story human conveyor system. Bodies are hoisted onto meat hooks, transported up to the second level and then brought through the plant to endure the meat packing process until the conveyor brings the butchered corpses back to the first level.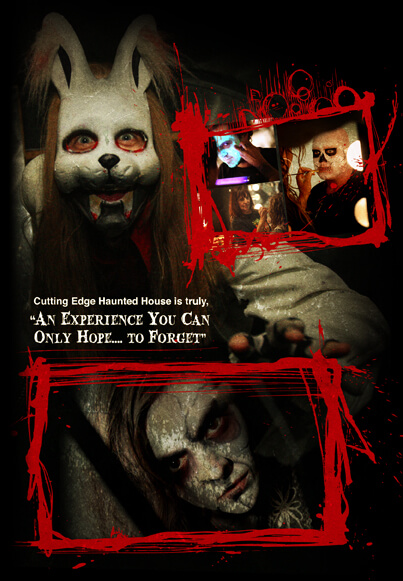 The Cutting Edge, as the name suggests, is not just a haunted house but an interactive entertainment event that includes a multitude of highly themed sets, scores of animatronics, a Monster Hearse on 44 inch tires, an exploding bus and a heart-pounding sound system. The haunted house also features a drum line whose athleticism and talent sends chills racing through the guests as the drummers not only entertain but also scare the public with the intensity of their performance.
"We have these top notch percussionists that perform in a sort of apocalyptic industrial alley way. They play on all sorts of heavy metal objects throughout the whole night. These guys are running around scaring people, but they never stop playing," James says as he describes the drum line.

Each aspect of the haunted house is designed with amazing precision. Everything ranging from small props and actors to the thematically-designed sets are created and placed strategically to become a nightmare producing, bone-chilling experience that you have never endured before.
If all of this wasn't enough, there is still the 30,000-square-foot maze aptly named "The Pit." The Pit is an enormous game, a race through the darkness with only a 4-inch glow stick to light the way.

One of the final encounters you endure will test your nerves, but force you to experience the most fun you will ever have screaming your head off. A 100-foot-long wall of solid, never ending foam is your last test in this terrifying haunted house. Once you enter, there is absolutely no going back. Don't worry though, if you've been through enough and you don't think you can take anymore, you can opt for the "chicken bypass."

Carlos Martinez, Guinness World Record adjudicator, braved Hell's Half Acre and wandered his way through the haunted halls, beginning to end, last year when he proclaimed Cutting Edge the longest walk-through haunted house on record. This year Cutting Edge is celebrating its 20th anniversary and plans to make it the biggest and most terrifying year ever. When you drive away from the haunted meat-packing plant you will leave wondering if it was really all make-believe. The experience reaches the place in your mind that always questions those fleeting shadows you notice out of the corner of your eye and the fear that someone is lurking behind you in the dark.

Cutting Edge Haunted House is truly, "An Experience You Can Only Hope…. to Forget"
TO FIND MORE HAUNTED HOUSES IN PLANO