Haunted House in Oklahoma City, Oklahoma - The Trail Of Fear Scariest and Best

Lawton, Oklahoma Haunted House - Trail Of Fear
By Hauntworld Magazine
TO FIND MORE HAUNTED HOUSES IN OKLAHOMA
To Learn more about Lawton, Oklahoma, Trail Of Fear visit their websit below:
Oklahoma Haunted Houses are some of the scariest haunted houses in America and its a state we have never featured a haunted house in Oklahoma until we discovered Trail of Fear located near Oklahoma City, Oklahoma in Lawton. Are you looking to find the scariest haunted houses in Oklahoma then look no further than Trail of Fear in Lawton Oklahoma. Our team now brings you one of the scariest, best, and ultimate haunted houses in Oklahoma near Oklahoma City Trail of Fear! If you are looking for all the best and scariest haunted houses in Oklahoma visit our state page featuring all haunts from Oklahoma.
---
A scream is heard in the night. Shadowy figures pass through the darkness. Innocent victims make their way through a narrow path of despair and dread, looking for an escape from the nightmare. The poor souls have wandered into the madness of the Voodoo Bayou. A creature leaps out of the darkness and scares the visitors, ushering them on to the next stage of fear. They still have a long way to go before the end. Welcome to the Trail of Fear… Oklahoma's LARGEST Haunted Attraction! The never-ending carousel of frights is a way of life for Bob Wright and the Trail of Fear haunted attraction. For 14 years running, the Trail is THE Oklahoma destination designed to test the limits of fear. Today, it is the top haunt in Oklahoma and one of the most popular in the Southwest United States. However, there was a time when it was nothing more than a small stop beside the road on Oklahoma 7 run by a father-and-son team that were still trying to figure out what they were doing.
---
"That first year in 1998 we had a small hay maze in a small 2,400 square foot tent," Wright said. "We just had one small attraction, and we sold maybe 300 to 400 tickets that year."?The idea of a Trail of Fear was hatched when Wright's father, Bob Wright Sr., joined with a group of fellow science teachers to open a science discovery center in the Lawton area. Wright Jr. had once worked in a small Halloween store in Lawton, so he thought it would be a good idea to spend some of that money to open up a similarly themed store to raise money for the science discovery center. There was nothing like it in town at the time, so the Wrights would be the first to jump on the opportunity.
"After spending a couple months researching how to do a store, my dad came home and asked if I wanted to do a haunted house," says Bob Wright Jr. "I said great, I love haunted houses." He had just bought 40 acres.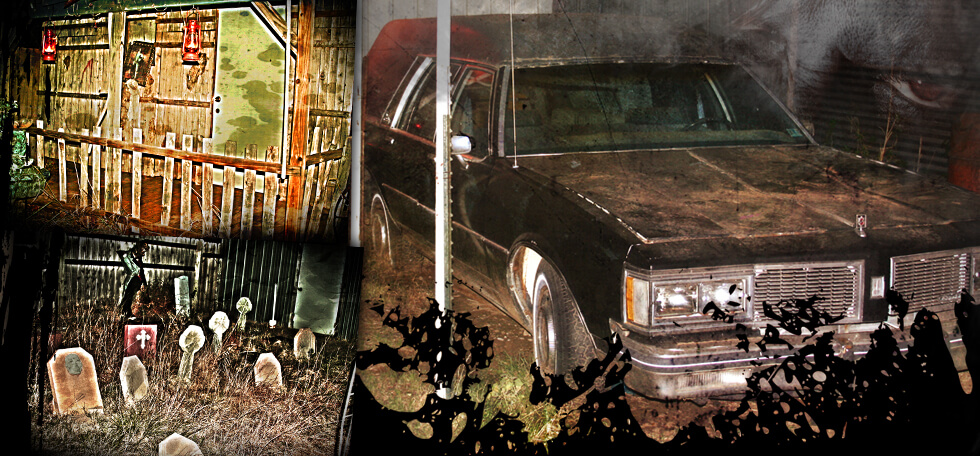 Since that time, The Trail of Fear has become an annual Halloween attraction in Lawton, opening every year except one. (Wright's mother died in 2001 and the father-son duo shut the Trail down for one year out of remembrance.) When it returned the following year, it was bigger and better than ever with the addition of the Werewolf of Copper Grove attraction. That was replaced two years later by the Hackensaw Haunted Hayride, a disturbing venture through a demented area controlled by a deranged group of inbred mutants lead by Mama Hackensaw. It was a stark contrast from the family-friendly horror nature of the original Trail of Fear. Wright also embraced the other end of the haunted house spectrum with a children-friendly Pumpkin Junction, which will make its return in 2012.
"By adding something darker, we could appeal to everyone," Wright said. "That's one of the things that make us so popular. We appeal to people who are skittish as well as those that don't scare very easily. It's not that our darker attractions are necessarily scarier, but they're definitely more aggressive."

A visitor traveling down Oklahoma 7 will no doubt recognize the Trail of Fear by the massive pyramid that towers over the attraction. Certainly a rare site, the three-story tall pyramid was incorporated into the original Trail of Fear attraction after Wright's father built it to compliment the numerous Egyptian props the pair had in storage.

"One day, my dad calls me up and asks if I remembered those old Egyptian props we have," tells Wright. "I told him I did, and he said 'good', because he just spent $12,000 building a pyramid." The building is now assimilated into the Trail as The Pyramid of Doom alongside the Fantasy Forest.

The Trail of Fear is the oldest of all the attractions at this massive haunt location. One of the major misconceptions people have when they show up at the box office is the number of haunted attractions available. "People will say they want to visit the Trail of Fear, but we ask them which one and they don't realize we have five, including Pumpkin Junction for the kids," says Wright. "It's something that we've added onto every year that we've been open."



Aside from the classic Trail, there's the darker and more intense Voodoo Bayou, which features the darkest and most gruesome scenes at the haunt. Creatures and psychopaths of all types wander the bayou preying on innocent victims that venture forth. This attraction is not suitable for children under 10.

Those fearful of clowns may want to steer clear of the Cirque de Morte – or embrace it fully. Featuring a winding maze of circus frights with demonic and evil clowns lurking around corners ready to frighten anyone that might dare to enter, the Cirque de Morte is one of the newest, yet most popular attractions.
For the past two years running, Wright has also brought in outside performances to compliment the Trail. In 2010, he showcased the Hellzapoppin side show, which featured performances from a large cast that defied dangerous odds to bring audience members thrills they could never find anywhere else.

Wright followed that up in 2011 by inviting the Crispy Family Carnival. A similar style side show, the carnival featured "circus freaks" and plenty of entertaining stunts. Bringing in unique performances each year is something Wright plans to continue doing in the future. "It's been insanely popular for us and for them," he said.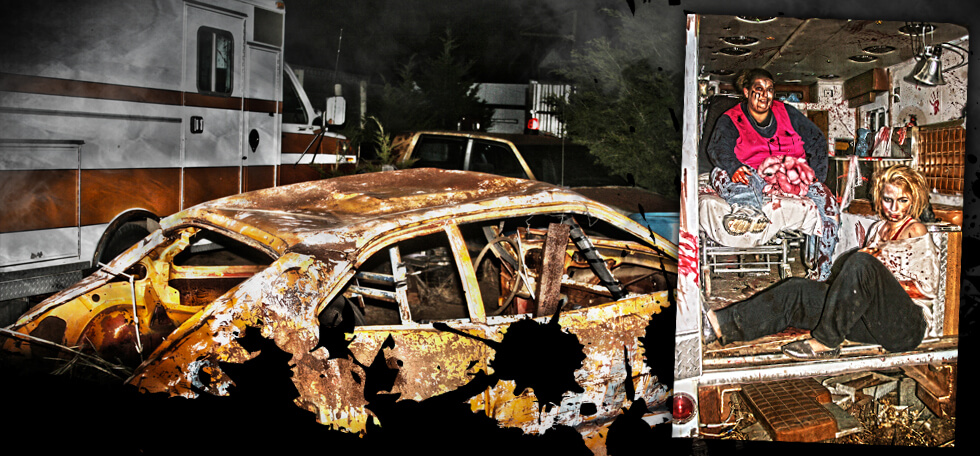 A major attribute to the huge success of the Trail of Fear is annual renovation. Wright is never content with resting on his laurels each year. He believes the reason many other haunts begin to lose popularity is simply because they become content with their product and with what they offer. The haunt eventually becomes stale and people stop coming because they know where the frights are going to come from. Beginning as much as six to eight months before the beginning of their haunt season in October, Wright and his cast members begin renovations and prepare to change up to 30 percent of the attraction from the previous year. "It's definitely one of the reasons we continue to grow annually and why we've become as large and popular as we are," he said. "We invest a large amount of money back into the attraction each year. Our customer will not see the same show each year."

Growing so large has not come without growing pains. Each year, Wright has needed to expand the parking lot. The Trail started out with a cast and crew of 12-15 people back in 1998. Today, it's expanded to well more than 100 including make-up artists, safety staff, security detail, EMT/First Responders, and management. The amount of people who contact Trail of Fear with inquiry to join their staff each year is "crazy". But fortunately those who do join the cast usually hang around. About 80 percent of the cast from 2011 have participated in previous Trail of Fear shows. It's that kind of loyalty that Wright said has helped the Trail persevere. "Without our AWESOME cast," he said, "the Trail wouldn't exist. We have professional makeup artists, people that do acting for a living and people that just want to come out and have a good time and scare people," he said. "It's that kind of dedication that really help us out."

One cast member called working at the Trail of Fear the best job one can have.

"This is the coolest job I've ever had because I get to scare people," he said. "I made a blonde girl cry on opening night. She leaned back against the fence and was screaming and crying. Now that's a quality scare!" A true quality scare is something Wright and his staff strive for each year, and nearly every scare in the haunt is an original creation of Wright and his cast members. Visitors won't see a Universal Studios horror creature popping out of the shadows during any of the attractions. Wright prides himself on offering original frights that visitors won't be able to find anywhere else.
"A lot of our ideas come from our cast, and a lot of it comes from being creative," Wright said. "It could be anything from books, movies, people we talk to or even going through other big haunted houses and seeing what they do and trying to do it better. We try to have something unique and do things that no one else is doing. That's hard to do in this industry, in any industry." Turning haunt inspiration into haunt innovation is another major attribute to the huge success of the Trail of Fear. Coming up with a quality scare involves more than just a creature jumping out of a dark room and yelling 'boo'. Each of the haunt attractions at the Trail have scares that incorporate many of the senses – sight, sound, smell and feeling – to create a truly memorable set piece.

Wright said there are also breaks in the frights with bouts of comedy that often lull the visitor into a false sense of safety. "We don't' just scream at people because they expect that to happen," he said. "Those people that are harder to scare will often be more susceptible when they've laughed at something. We do these subtle things so that we can suspend the disbelief. We want to make even the most skeptical person have a good time."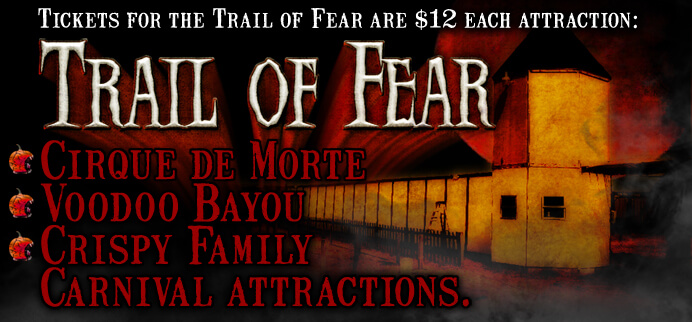 While the Trail consists of five separate attractions, the entertainment begins as soon as visitors get out of the car. Each of the attractions are substantial. The Voodoo Bayou can take up to 45 minutes to complete, counting the hayride out to the bayou and back. While visitors are walking in between these attractions, several actors dressed up as horror staples like Jack the Ripper, vampires and psychos wander the grounds scaring people. Wright said it's all about the ambience and keeping the spirit of fear alive, even when groups aren't inside one of the attractions. "At times, we have long wait lines at our attractions, so there are actors out and about to give them a little fright," he said. "Since we have a lot of people that come in from out of town and others with time constraints, we offer fast passes which allow guests to go to the front of the line. Without those, many people wouldn't be able to enjoy the entire frightful experience that the Trail has to offer all in one night. There's just so much to see and do."

Outside of the individual haunt attractions, the Trail offers a souvenir store with t-shirts, hats and other branded items for souvenirs. A full restaurant, The Boo House BBQ, is also open on the premises serving barbecue, brisket, hamburgers, hot dogs and more. "It's actually VERY good barbecue," touts Wright. "And with the restaurant, we are able to offer a complete evening of entertainment from dinner to attractions and more."

With the Trail of Fear still expanding in Lawton, Wright has already set his sights on another location for a second Trail of Fear near Oklahoma City. He hopes to have it open for the 2012 season. "Our constant expansion and the ideas we keep bringing to Lawton is what helped spur onward and think about a second location," Wright said. "There's just so much we want to incorporate, and now we do can do that with our Oklahoma City location. People should certainly look for the newest Trail of Fear location opening near Oklahoma City in 2012."

Tickets for the Trail of Fear are $12 each attraction: The Trail of Fear, Cirque de Morte, Voodoo Bayou, and Crispy Family Carnival attractions. Or guests can buy a pass for all of the haunted attractions for only $30. Fast pass upgrades are $10, allowing people to move to the front of the lines. For more information on the Trail of Fear, visit www.trailoffear.com

---