Haunted House in St Louis Missouri The Darkness
St. Louis is famous for many things. For example, the Arch, St. Louis Cardinal Baseball, Ted Drew's Frozen Custard, Toasted Ravioli, the world-class St. Louis Zoo and more are all very iconic to St. Louis, but another thing St. Louis is famous for is haunted houses. The St. Louis area has been a hotbed for haunted houses over the years and boasts many industry firsts, such as the first ever FRANCHISED haunted house, Silo-X. St. Louis also once featured a haunted house under the historically haunted Lemp Brewery. One of the most famous haunts, Thayre Ashton's Mansion, was the first haunt to ever bus their patrons from a parking lot to the haunt itself deep in the woods. At one point, St. Louis boasted over 20 haunted houses including one called Terror Visions, the first ever haunt that featured a real Hollywood FX artist as owner and designer. Among all of these great and historic haunts, there is only ONE that has stood the test of time to outlast them all, The Darkness Haunted House. The Darkness raised the bar so high no other haunt in town could compete and even elevated itself to become one of, if not the best haunted house in America!







The Darkness located in downtown St. Louis, Missouri began in 1994, one year after Silo-X opened its doors for the first time, and one year before Thayre Ashton's Mansion would close forever! When The Darkness opened for the first time, major haunts still populated the scene such as Terror Visions, Thayre Ashtons Mansion, Silo-X, Nightmares, House on Haunted Hill and several others. However there is ONLY ONE of those haunt still standing today…The Darkness produced by Halloween Productions, Inc. (HPI).

At one point, Silo-X franchised over 10 haunts across America in cities like Chicago, Boston, Kansas City and more all by the same name. But before long, Silo-X, along with many other haunts like Terror Visions, House on Haunted Hill and others, sold out of the business and/or closed their doors for good. So why did The Darkness survive? The owners of Halloween Productions Inc. started building haunted houses for major theme parks across America like Six Flags, Kennywood, Kings Island, Cedar Point and others. The Darkness location was used as somewhat of a showcase for amusement park clients to see firsthand the high caliber of attraction that Halloween Productions can produce. The Darkness had to be that showcase haunt for HPI's clients, so no expense was spared in maintaining The Darkness as one of the best haunts with the best Hollywood-quality sets, scenes, and effects. Once the owners started down the road to push the envelope of amazing set design, special FX, animations and more, they never looked back.



The owners of The Darkness not only built haunted houses for clients all over the world, but they were also the first haunted house company to ever offer air driven animation, selling hundreds of air driven (pneumatic) scares to haunts WORLD WIDE! When Halloween Productions, Inc. wanted to create a new scare, a new prop or a new idea, they built it, installed it, and tested it inside The Darkness first. The Darkness was not only the company's crown jewel but also their testing ground for the FX and props they would build for their clients.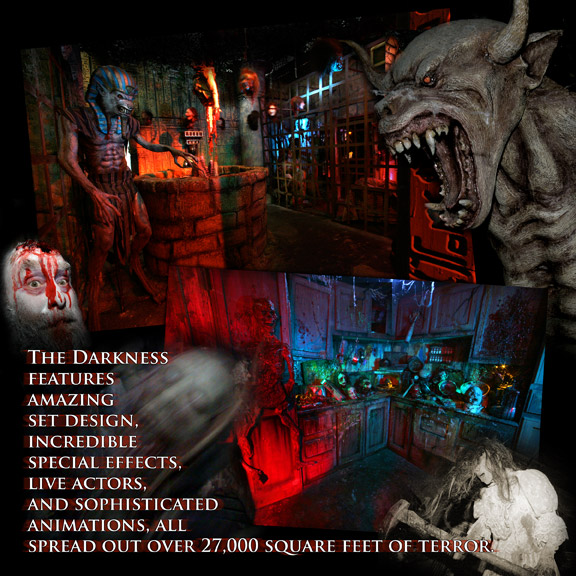 The Darkness name came from their original location inside the old Welsh Baby Carriage Factory (originally called 'The Sunshine Factory') because of the 400 plus boarded up windows built into its design. In 1994 Larry Kirchner, owner of HPI, signed his first rental agreement for space inside the Welsh building to build his first owned haunted house. During clean-up prior to initial build-out, Larry found documents from nearly 100 years prior calling the building 'The Sunshine Factory'. Larry found this ironic because the once known 'Sunshine' building now had very little to no light inside due to the boarded up windows… Sunshine 100 plus years ago = pure DARKNESS now. So in 1994, The Darkness began scaring St. Louis, and the legend of this great haunt quickly spread throughout the region. People now travel from other states AND other countries to visit this haunted attraction. Since 1994, over 600,000 fright fans have screamed through The Darkness making it one of the top 10 most visited haunted attractions in America!

The Darkness features amazing set design, incredible special effects, live actors, and sophisticated animations, all spread out over 27,000 square feet of terror. The Darkness is located next door to one of America's oldest farmers markets, The St. Louis Historic SOULARD MARKET, located on the same street as Busch Stadium (Cardinals baseball) and the AB Brewery in downtown St. Louis, MO. The Darkness is now a St. Louis staple and a major tourist attraction for the St. Louis market. In 2008, nearly 10,000 people visited The Darkness from outside the St. Louis Metropolitan area, coming from as far away as California, Texas, and even England, France and Australia. The Darkness has been featured on national television like The History Channel's Modern Marvels show, Travel Channel's "America's Scariest Attractions', The National Geographic Channel, The Today Show, Fox News Coast to Coast, and it has been featured on the front cover of the USA Today. Why has so much attention been given to this one haunted house? It's really simple actually; the owners have taken an amusement concept of a haunted house and turned it into more than what you would ever expect a haunted house to be. The owners don't view The Darkness as a haunted house but rather a REAL LIVE HOLLYWOOD MOVIE that plays out right before your eyes where YOU are the scream queen, you are the STAR of the movie, and where you live and breathe every scream!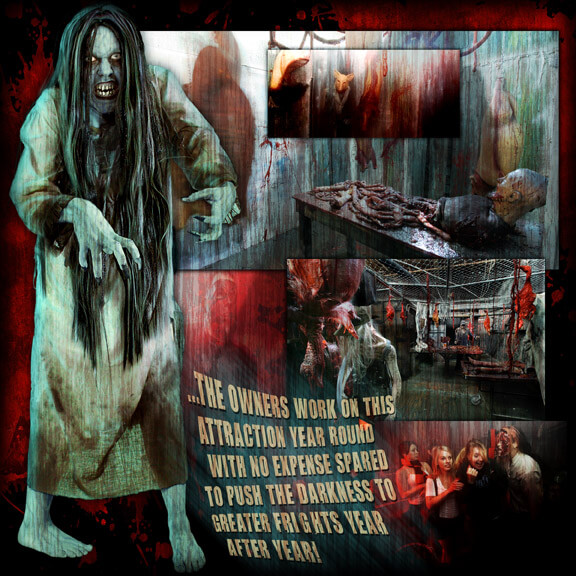 The owners work on this attraction year round with no expense spared to push The Darkness to greater FRIGHTS year after year! When we visited The Darkness and stepped foot inside the interactive queue room, we thought we had entered the set for the next Indiana Jones movie. Simply stated, it's that awesome. The downstairs of the Darkness is like an ancient temple with giant monsters, savages, waterfalls, deadly traps, falling heads, and set design that will amaze you. If you survive, you make your way to part two of this haunted adventure, an old haunted mansion, located upstairs on the second floor of the building. When you think of a haunted mansion, all of your preconceived notions of what you'd expect and more are bottled up inside this second floor of terror inside The Darkness. You start off entering a creepy swamp house that rotates on all four pivots, then into a very realistic graveyard with ghosts haunting from every direction, and finally through a very elaborate mansion façade. Inside the mansion, you have a creepy mirror maze, kids' room, kitchen, freezer, boiler room, wine cellar, and the most realistic haunted greenhouse filled with giant oversized plant monsters.

After running through two floors of FRIGHT, you might think that's enough, but NO the tour isn't over. The owners of The Darkness built a new section of the building, spending almost a million dollars to add an additional 17,000 sq ft of additional SCREAMS. Through this addition, you walk directly into the ALL NEW Terror Visions in 3D. If you have NEVER seen a 3D haunted house, take our advice and tour this one. You put on a pair of chromo depth 3D glasses and the world of Terror Visions comes to life. Included are crazed clowns, an ice cream truck killer, and much more. Terror Visions is GHOULY one of the most unique attractions we've ever toured, worth the price of admission all by itself.

Lastly, when you exit Terror Visions you end up in a Monster Museum filled with real Hollywood movie props from Saw, Disney's Haunted Mansion, Creature from the Black Lagoon and much more. The Darkness Monster Museum also features a gift store filled with Darkness merchandise much like Universal Studios has at the exit of a multimillion dollar ride.





It's really hard to say who has the best haunted house, haunted Screampark, haunted hayride, etc., because when an attraction is on the level of The ALL NEW Darkness, it's a matter of personal taste. Are you looking for a haunted house in the woods, in an old creepy hospital, inside an abandon prison? Are you looking for a gory haunt, a realistic haunt, a family style haunt? Whatever it is you are looking for, there are clearly different levels or styles of each event that owners decide to produce. Some events are highly marketed, money making ventures where the focus isn't on the event itself. With these haunts, there's usually tons of marketing hype, but by the next year the haunt is GONE without a trace. The Darkness is definitely NOT one of those haunted houses. As you walk through the attraction from one room to the next, you can tell a great deal of money, time, creativity and passion has been placed into producing The Darkness. Is The Darkness the best haunted attraction in America? HauntWorld has reviewed a lot of haunted houses, toured many haunts of all different shapes, sizes, styles, and themes, and most great haunts like The Darkness are unique and offer each scream seeker something different. Are you afraid of spiders, snakes, heights, or merely your own shadow? There's different strokes for different folks, and we can say without hesitation that The Darkness will rank as one of the best haunted houses you'll ever see. It may not be your personal favorite but clearly it's one of the coolest, top notch ATTRACTIONS ever!

The Darkness has survived where so many other haunts have failed and has continued for over 15 screaming years! Once again, The Darkness ranks as one of our TOP 13 haunts in America!? For more information about The Darkness visit their website at www.Scarefest.com.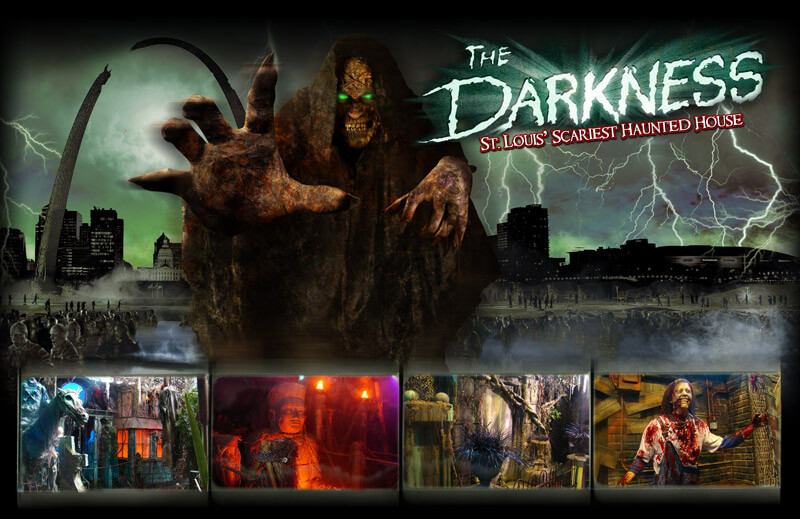 LEARN MORE ABOUT THE DARKNESS go to www.Scarefest.com

TO FIND MORE HAUNTED HOUSES IN MISSOURI and MISSOURI HAUNTED HOUSES CLICK HERE ... https://www.hauntworld.com/missouri_haunted_houses
UPDATE 2012 UPDATE

St. Louis, Missouri Haunted House - The Darkness Haunted House
Review by: Hauntworld Magazine
FIND THE BEST HAUNTED HOUSES IN MISSOURI CLICK HERE: https://www.hauntworld.com/missouri_haunted_houses
Haunted Houses in St. Louis, Missouri are some of the scariest haunted houses in America. Hauntworld.com tries to review only the best haunted houses in St. Louis, Missouri. When you are looking for simply the best, scariest, haunted houses in Missouri there is no other place to search than Hauntworld.com which offers our guests the best information to find Missouri Haunted Houses including the best haunted attractions in St. Louis, Missouri. There are many haunted houses in St. Louis that claim to the best haunted attraction but only one can truly lay claim to the being the scariest haunted house in Missouri... The Darkness Haunted House in St. Louis, Missouri.
To learn more about St. Louis, Missouri The Darkness Haunted House visit their website below:
http://www.scarefest.com/haunted_house.cfm
TO FIND MORE HAUNTED HOUSES IN MISSOURI CLICK HERE https://www.hauntworld.com/missouri_haunted_houses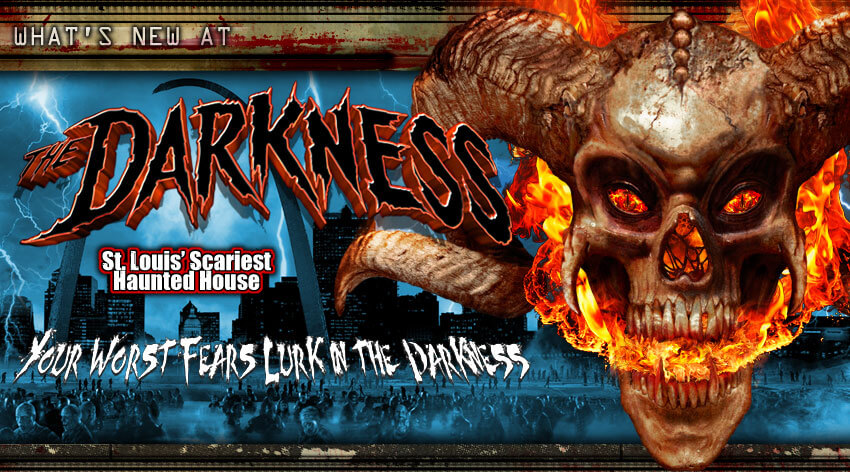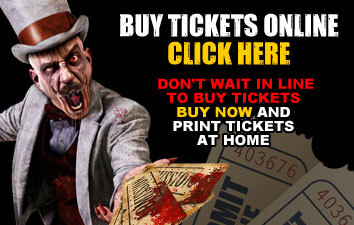 ---
Are you ready to experience the best haunted house in America? How deep into the depths of The Darkness can you take before your next breath is your last? The all new Darkness Haunted House, located in Soulard, off South Broadway in downtown St. Louis, Missouri, has been rated as America's BEST haunted house. Missouri haunted houses have become known for Halloween and none more than the KING of scream: The Darkness Haunted House.
---

Each year, The Darkness is totally renovated; sometimes as much as a million dollars is spent to renovate The Darkness each season. The Darkness is not like any other haunted house you've ever experienced. Because of its national reputation, the creative team behind this St. Louishaunted house believe they must go above and beyond what any other haunt across the nation can do. The Darkness continues to set the standard across the World for what a premier haunted attraction should be modeled after.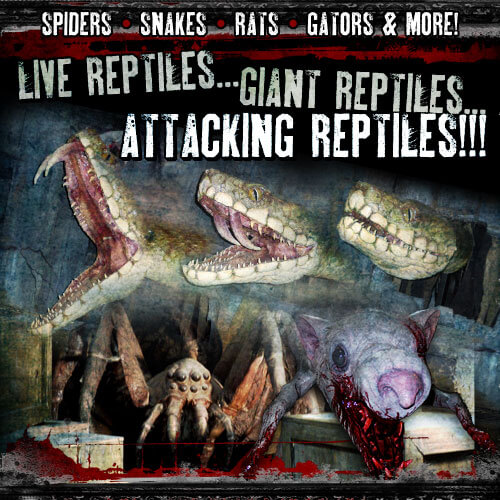 The Darkness has been haunting St. Louis, Missouri since 1994, making this our 18th year of fear. The Darkness is now three haunted attractions in one location for one price including the two story Darkness Haunted House, Terror Visions 3D Haunted House and the Monster Museum and gift store.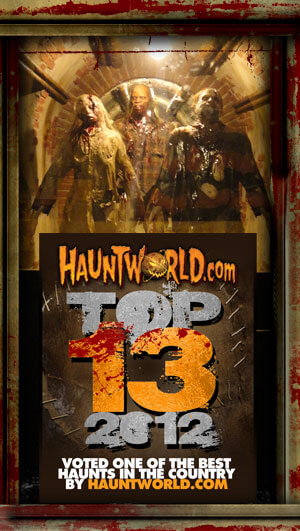 So what's new at The Darkness for 2012? The Darkness was totally renovated with new scenes, props, animations, and special FX we've never before attempted. Last year we added sections of The Darkness featureing a live reptile section which includes real Cobras, Scorpions, Pythons and Piranhas. Additionally, last year the downstairs includes several new scenes based on phobias of snakes, spiders, reptiles, critters, and creatures. Prepare to enter the Viper Temple and be attacked by a massive flesh eating snake. If you survive, you'll come face to face with a 20 foot tarantula or walk through a catacomb and be attacked by a massive gator.
In 2012 our team of special FX artists have created the best Darkness ever! Terror Visions 3D had a massive overhaul including all new scenes including a multi motion clown ice scream truck driven my a maniac clown who is trying to splatter you into the pavement. The Darkness itself now features several new rooms including the Scorpion Cave where you'll come face to face with a 10 foot Scorpion. Also walk across a suspended rope bridge, and encounter giant pythons who creep out of the walls ready to wrap you up! Additionally The Darkness upstairs sections features an all new ZOMBIE THEME with all sorts of ZOMBIE special fx including a FLYING zombie! Yes a Zombie will fly across the ceiling taking bites right out of your brain! The upstairs section also features a never before seen ZOMBIE effect room where it appears thousands of ZOMBIES are walking right at you! ZOMBIES ARE EVERYWHERE IN THE ALL NEW DARKNESS 2012!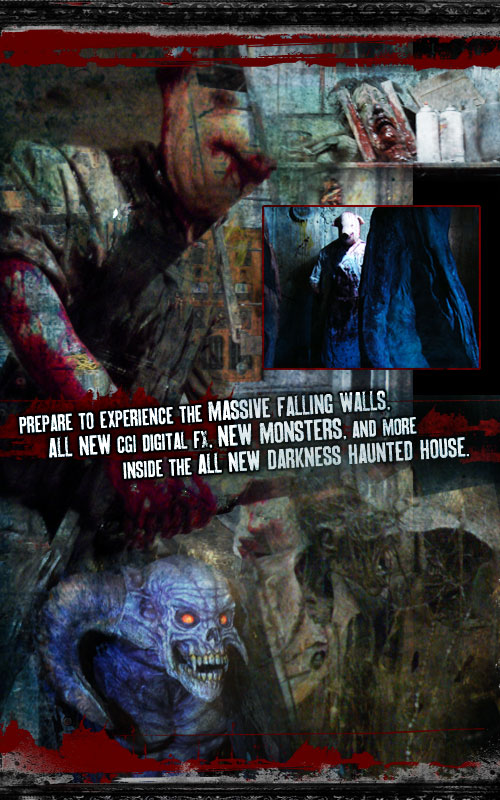 If you survive the all new Darkness, the fear doesn't end. Now, you must face your worst visions of terror inside Terror Visions 3D Haunted House. Terror Visions is THE BEST 3D haunted attraction ever! New for 2012, it features new horrifying scenes and sets, including an interactive Ice Scream Truck, Mr Freeze Clown blasting you with ICE FX, Axe Wielding Jack n Box room, and a new come face to face with CLOWNZILLA! Terror Visions in 3Dalso features more than 20 animations designed to make you SCREAM for your life!



Once you exit Terror Visions 3D Haunted House, you'll enter our Monster Museum which now features a larger than life sized replica of the new Wolfman, Frankenstien, and many more. Once inside, bring your cameras and take pictures with all your favorite movie monsters from Wolfman, Creature from the Black Lagoon, the Incredible Hulk, Darkness from Legend and more. Also featured inside the Monster Museum is the Slackers Gift Shop filled with monster movie collectables and of course, Darkness t-shirts! LASTLY WE ALSO FEATURE AN INTERACTIVE QUE LINE ENTERTAINMENT SHOW WHILE YOU WAIT IN LINE FOR THE DARKNESS... ALL NEW IN 2012.

TO LEARN MORE ABOUT TERROR VISIONS AND THE MONSTER MUSEUM CLICK HERE
We're looking forward to seeing you this Halloween season at the all new Darkness Haunted House.
BUY TICKETS ONLINE AND DON'T WAIT IN TICKET LINES. IF YOU PURCHASE YOUR TICKETS ONLINE, THERE'S NO WAITING INTHE TICKETING LINE! WATCH THE FOLLOWING VIDEO OF THE DARKNESS HAUNTED HOUSE TOUR 2012.
LEARN MORE ABOUT THE DARKNESS go to www.Scarefest.com Watch the video of this years Haunted House tour during the Halloween Show 2012.
Additionally read all about the Darkness from 2010 CLICK HERE