Universal Studios Horror Nights Haunted House in Orlando Florida

Orlando, Florida Haunted House - Universal Studios Horror Nights Haunted House
TO FIND THE BEST HAUNTED HOUSES IN FLORIDA
Haunted Houses in Orlando, Florida are some of the scariest haunted houses in America. Hauntworld.com tries to review only the best haunted houses in Orlando, Florida. When you are looking for simply the best, scariest, haunted houses in Florida there is no other place to search than Hauntworld.com which offers our guests the best information to find Florida Haunted Houses including the best haunted attractions in Orlando, Florida There are many haunted houses in Orlando that claim to the best haunted attraction but only one can truly lay claim to the being the scariest haunted house in Florida... Universal Studios Horror Nights Haunted House in Orlando, Florida.
To Learn more about Orlando, Florida Universal Studios Horror Nights Haunted House visit their website below:
http://www.halloweenhorrornights.com/orlando/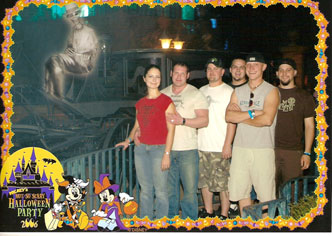 This past October, 9 crew members and myself took a few days off the day after Columbus day, and headed down to Orlando, Florida to take in some theme park Halloween fun. Escaping the frigid climate we were having in Buffalo and getting into some warm weather was a great treat mid season. We visited Disneys magic kingdom "Not so scary Halloween Party", Universal Studios Halloween Horror Nights, and Busch Gardens "Howl -O-Scream. This would be my seventh year visiting Halloween Horror Nights, and My first for Howl-O-Scream (Which I had heard was on par with Universal Studios Show) Tuesday Evening we headed to the Magic Kingdom to experience "Mickey's Not So Scary Halloween Party" This is geared more towards the kids, as they are encouraged to come in costume and visit many trick or treat stations throughout the park where costumed characters hand out candy and treats to what seemed to be armies of children dressed as Buzz Lightyear, Woody, and members of the Incredibles!!
Then main advantage of Mickeys Not So Scary Halloween Party is the park being open til midnight. As a huge Disney World nut, I always enjoy visiting the magic kingdom in the evening. The lighting throughout the on the castle, attractions, and throughout the park is very impressive! (Although I'd hate to have their electric Bill!) Any fan of Halloween and Walt Disney World should check this out sometime. As I said there are tons of young kids, but they are mostly walking around collecting candy from Mickey Mouse, while we were enjoying all the rides and attractions with very little wait times. The whole park is decorated for Halloween in Disney fashion, and Micky And the other characters are wearing costumes of their own. We of course hit the Haunted Mansion right away, but not before jumping at the chance of the photo op in front of it. They had an old fashioned hearse set, up with a nice view of the Mansion in the background. The best part was when you bought the photo they popped one of the grinning ghosts in the drivers seat! The Haunted Mansion was great, but wish they would re-them it for Halloween like Disneyland in California does with there Nightmare Before Christmas Haunted Mansion Makeover. On the plus side we got to see the new changes made to Pirates Of the Caribbean, including the amazingly realistic Jack Sparrow at the end of the ride and the new Zombie Pirates from Scarefactory throughout many of Dsiney's gift shops. All in all a great time, but the following day we were ready for the reason we came down. Universal Studios HALLOWEEN HORROR NIGHTS!!!!!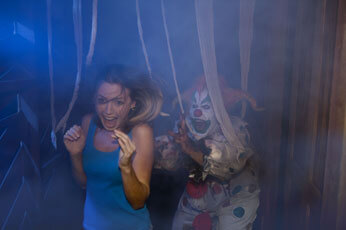 In early September I made sure to get my Halloween Horror Nights tickets and express passes (Which are a must). While on the website I noticed a new behind the scenes R.I.P. tour which allows you lights on access to some of the houses. We arrived at Universal Studios to embark on our 11am R.I.P. tour. I have to say this was well worth the price, which was around $28 I believe. You are first shown a cool video showing footage from previous Halloween Horror Nights and them showing you some of the scares and how they are designed…. Would love to get my hands on a copy of this video-tons of cool footage!!! We then headed over to an amazing Halloween Horror Nights museum full of props, posters, blueprints of previous haunts, and tons of other Halloween Horror nights memorabilia. As a huge Halloween Horror Nights fan it was great!! Definitely enjoyed paging through all the blueprints, plans and sketches from previous years haunts. After getting our fill of the museum we were then escorted to the first Haunt we got to check out-the Screamhouse!
Screamhouse was very impressive to tour with the lights on-the soundstage ceilings were extremely high, so the façade and walls throughout were very tall and gave you the feeling of being in a mortuary, and the detail was every bit of what you would expect from Universal Studios. Throughout the haunt there were piles of dead flower arrangements everywhere, giving a very morbid quality to this already creepy house. As we toured throughout the house and then through the greenhouse and yard areas the smell of decay and dirt were overwhelming. Universal did a great job this year utilizing different smells throughout the haunts, which gave everything an even greater sense of realism. We then got to tour the All Nite Die-In and Psychoscareapy. We were allowed to take pictures of Screamhouse and Psychoscareapy, but not All Night Die In due to all the sets portraying movies that Universal did not own. I didn't expect to be allowed to take any pictures, so this was a nice surprise and I managed to get some nice shots of the haunts. We finished our afternoon at Islands of adventure, just itching to see these haunts full of actors and in action at 7pm.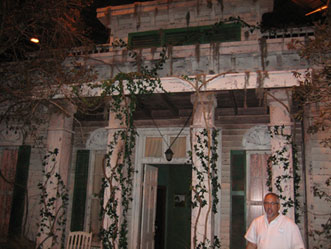 This year Halloween Horror Nights theme was "Sweet 16" celebrating 16 years of scaring the hell out of people!! So they brought back 7 of the most popular haunts over the years, as well as HHN icons of the past including Jack, The Caretaker, The Director, and The Teller of Stories. The great thing was although the names of the haunts were the same as before-the haunts were completely different than the previous versions. They were not only different but better than before. I have been going to Halloween Horror Nights and Knott's Scary Farm every year for the past 7 years, and the one thing that impresses me is that Universal completely changes their haunts every year. You never go and see the same haunts year after year. This is the one thing I've found disappointing with Knott's Scary Farm over the past few years, is the almost identical haunts year after year. Not at Halloween Horror Nights! You can expect a different show each year!
On top of the seven great Haunts they had this year, there is also sections of the park themed out as "Scare Zones". These also change each year. "Deadtropolis: Zombie Siege" was my favorite of the night. This scare zone spanned a good stretch of the city streets near the "Revenge Of The Mummy" Ride. Actors decked out in great zombie makeup roamed the streets as the simulated sound and lights of choppers and gunfire filled the night. The actors camouflaged themselves well in the crowd, as some were dressed as businessmen, Bike riders, postmen, and normal kids, and did a great job of startling many patrons. Even though we went on a Wednesday night, the express pass is a must if you want to see everything. Although we had the express passes and we got through all the haunts, you still will not have enough time to hit all the rides, so I always hit the haunts first-and then squeeze in as many rides as I can.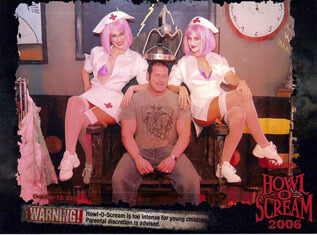 Not to be missed is the always hilarious Bill & Ted show. Although the first few years going to HHN I never went to this show, the first time I did I was hooked. Changed every year to poke fun at present day issues and pop culture-this years was great. With characters like Magneto, Lex Luthor, Tom Cruise and the Juggernaut-the antics kept you laughing the whole show. I always go to the latest show as the crowd is more rowdy and liquored up-this year so was our crew..lol. The full bars every ten feet throughout the park made it very convenient to get a drink. I had my fair share of shots of Jekyll and Hyde, a really cool new liquor with an awesome set up-to bottles that fit together. One Side Jekyll, the other Hyde.
All in all Halloween Horror Nights is not to be missed for any Halloween and Haunted House enthusiast, and the way they keep it fresh and exciting every year keeps me coming back every season. The haunts and actors are great, the set design is amazing, and most of all its FUN!!! And if you are a haunt owner the R.I.P. tour is great opportunity to see how Universal does things "behind the scenes". Very interesting to see how they design the scares to work while a steady stream of patrons are walking through.
The following night I decided to check out Busch Gardens Howl-O-Scream, as I had heard good things about it over the years. The first thing I noticed was there was no express needed, as the crowds were nowhere near that of Universals. Howl-O-Scream had 6 haunted houses as well as 5 scare zones throughout the park. On our park map all the houses were rated on a 3-5 skull intensity rating. The first one we checked out was "Freaked!" Loaded with clowns, the haunt itself was mostly barrels and pallets stacked everywhere. While not very impressed with this house, We ventured over to "Deathly Departed" which in my opinion was the best house there. "Deathly Departed" was a traditional mansion style house, with some great scares throughout-very well done!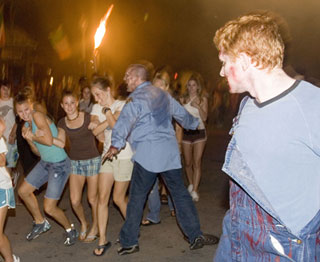 The scare zones at Howl-O-Scream were ok, but like the houses not on par with Universals. Throughout the park they did make good use of actors in Ghille suits hiding in the trees and bushes, getting some great scares! Walking through the park gave me a feeling that Busch Gardens was trying to mimic Knott's Scary Farm, but they're not quite there yet. They did have a few sliders a la Knott's running around which was nice. The Awakening show at the entrance to the park was lackluster compared to the big "Arrival" entrance show at Universal Studios where they made use of all the Halloween Horror Nights Icons, and a great stage show. The two shows throughout the park "Fiends" (A show with costumed characters dancing around) and "Control-Alt-Deceased" were just not up to par with the more exciting and grand productions at Halloween Horror Nights.
As luck (or bad luck) would have it, a huge storm hit Buffalo on October 12th. Power was out all over western New York for up to 2 weeks in some areas. 2 feet of snow fell overnight weighing all the trees down which still had leaves, which in turn caused all the trees to fall down and knock power lines down everywhere. My flight home was cancelled, and unfortunately on Friday the 13th our haunts the House of Horrors and Haunted Catacombs could not open and I was stranded in Orlando for another day. Friday the 13th tickets were long sold out for Halloween Horror Nights. Luckily I was able to obtain some tickets and VIP vouchers, and spent the evening of Friday the 13th at Halloween Horror Nights again. It was packed!! Fortunately they were open Til 2am and we enjoyed all the haunts one more time before finally heading back to Buffalo Saturday morning.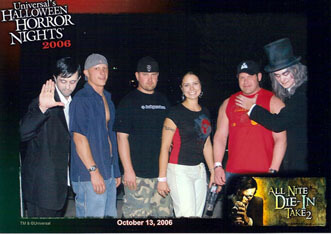 All in all it was another impressive year at Halloween Horror Nights. Although I wish they would expand the event through both Universal Studios and Islands of Adventure as they have other years. That gave you not only the haunts to explore, but a wide choice of all the great rides in the parks as well. I highly recommend any haunt owner or haunt enthusiast to go to Halloween Horror Nights once. Chances are you'll get hooked like I did and make it a yearly event. Only 9 months til HHN 17!!...(drool!)
TO FIND THE BEST HAUNTED HOUSES IN TAMPA BAY