PENNHURST ASYLUM HAUNTED HOUSE DRAWS PROTEST... HAUNTWORLD SOUNDS OFF!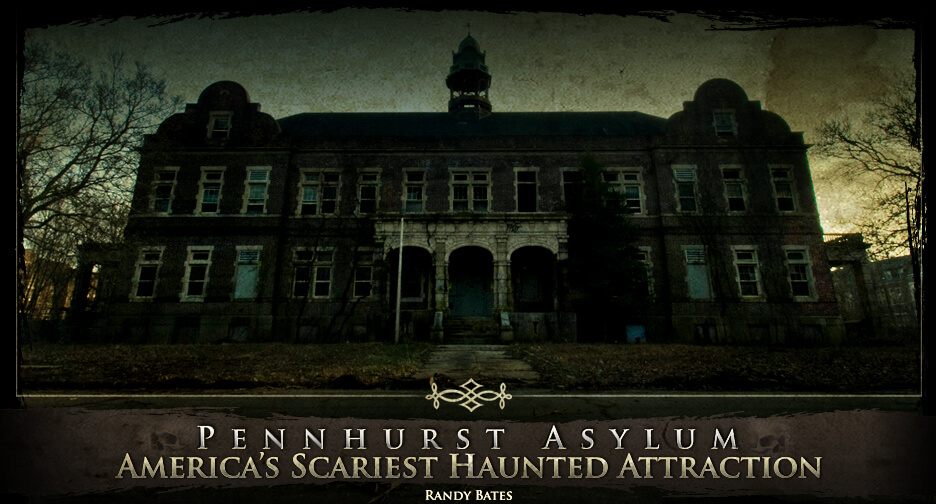 Philadelphia, PA
Haunt owner Randy Bates owner of The Bates Motel just outside of Philadelphia, PA is trying to open a new haunted houses in the old Pennhurst Asylum a place with a very dark past.
Apparently when the hospital was open the doctors may have abused the patients and worse and due to these allegations the hospital was closed and was left to rott. The new owners of the building want to open a haunted house and take advantage of the scary looking building and grounds. Who wouldn't want to open a haunted house in a building that looks like something right out of a horror movie? What happened inside the building 20 or 30 years ago has little to with how amazing the property looks for everything from ghost hunting to vandels who might want to break into the property or in this case a haunted house.
What makes us totally bent out of shape is every single year these groups come out to protest haunted houses who use asylum names, or themes to promote their haunted house. Why do they do this? Do they have a good reason... maybe! However what irks us is they only pick on the little business man the guys who are trying to in this case SAVE a historic property for the wrecking ball. When Batman movie came out The Joker is a mass murderer who Batman claims will spend his nights in a padded cell... additionally one of the best selling games of all time was based on criminals locked up in Arkam Asylum. Why and where are the protests against these movies, games, and simply in general against Hollywood? The most recent Halloween movies has the killer living in an asylum only to break loose and kill everyone, the remake of House on Haunted Hill was all about a closed down asylum filled with demons and monsters. Why not protest these movies why always the small business person trying to open a business?
Why? Because its easy! Every single Halloween these nutballs come out of the wood work to protest haunted houses, while totally IGNORING Hollywood, the video game industry, or any other medium that would utilize the 'asylum' theme for profit. I can respect their position A LOT better if they didn't simply pick HALLOWEEN each year to lay out their case, and find the local media outlets with a friendly ear merely to gain PR for their cause. The media loves stories like this around Halloween. In America you are entitled to freedom of artistic expression the basic right to create and produce a business. Many haunted houses have followed Hollywoods lead in respect to 'ASYLUM' themes and so if its good for one entertainment outlet it should be fair game for all. Hollywood makes movies based on what they call 'real events' only to blow what really happened right out of the water only to make a better story or in a horror movie ... scarier. Still I hear no complaints from these same people!
In the end whether or not Pennhurst was or wasn't a REAL asylum someone was going to come along and try to open a haunted house inside. This would NOT be the first case where a famous old asylum was transformed into some sort of money making Halloween venture... many old asylums, hospitals, and buildings host ghost hunting, paranormal events and tours. The biggest horror movie last year was about the paranormal and Travel Channel hosts several ghost hunting shows. If you ask me all of those Ghost Hunting shows are BOGUS... the guys who hunt down ghosts KNOW its bogus but they profit from it all the same. I will wait by my phone for one of these ghost hunting shows to invite someone like myself to a ghost hunt and SHOW me a real ghost! Until that happens I call it all bogus.
Are their really ghosts in that old building... I doubt it!
All the same the building looks awesome and ghost hunters, to Halloween thrill seekers will line up for miles to get into this old building. How many people do you think have already vandalized the building, broke into the place to sneak around... well now all that can stop, maybe the property will be repaired, cleaned up because there is some income on the old place.
What would you have these people do with the building ... turn it into apartments or a hotel only to hear the same people complain you shouldn't do that either. The building has a past, so do many famous hotels, homes, buildings where someone was murdered, killed themselves, or whatever.

The fact is all the PR against the new Pennhurst Asylum is ONLY MAKING MORE people want to lay down their $20.00 to see inside the building, get scared and contribute to keeping the building and its history around for years to come.
We at Hauntworld.com can not WAIT to visit Pennhurst Asylum!!!!