The Darkness Haunted House Tour Video

The Darkness haunted house opened a few months ago for the haunted house tradeshow. A film crew was on hand to film the haunted house industry visiting and touring The Darkness a haunt some call the best haunted house in America. The Darkness is located in St. Louis, Missouri and is one of the most highlighted haunted houses in America. The Darkness has been featured on National Geographic Channel, Travel Channel, Modern Marvels, Today Show, and featured in the USA Today. The proudest moment for The Darkness was opening for people in the haunted house industry and showcasing their haunted attraction to everyone during the show. The Darkness was totally renovated for the tradeshow, with owners claiming they spent over $300,000.00 on the renovation to a haunt that had already had millions upon millions to create the attraction.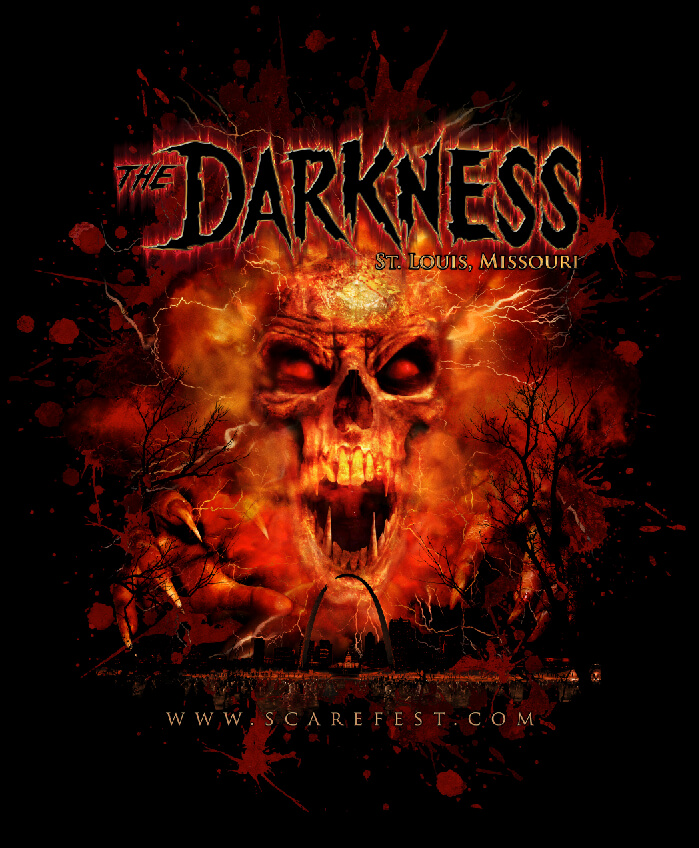 The Darkness featured several awesome sets, scenes, monsters, special effects and animations. One such animation was a falling barrel wall which had a wall of rolling barrels crash down upon your head and left you feeling terrorfied! Another cool animation was a falling ceiling effect where the entire ceiling above you came crashing down upon your head leaving most people crawling out of the room. The Darkness also featured set design really second to none, the vast amount of time spent creating all this detail must have been in the thousands of hours.
The Darkness was a two story haunted houses and after you completed The Darkness you ended up in what had to be simply the best 3D haunted attraction ever created. There was NOTHING inside this attraction that wasn't themed with incredible 3D effects. Lastly as you near the end of the attraction you found yourself in a horror museum with a Darkness gift store which sold some really cool t-shirts featuring Darkness logos.
The Darkness is one of the best haunted houses in America! Visit their website at http://www.scarefest.com