Haunted House in East Windsor New Jersey Corner of Chaos - Scariest Haunted House in New Jersey

East Windsor, New Jersey Haunted House - Corner Of Chaos Scream Acres
By Hauntworld Magazine
TO FIND MORE HAUNTED HOUSES IN NEW JERSEY
To Learn more about East Windsor New Jersey's, Corner of Chaos Scream Acres visit their websit below:
New Jersey Haunted Houses can be found here at www.Hauntworld.com where we rate and review haunted attractions in New Jersey and across the World. Corner of Chaos is a haunted house in New Jersey not far from New York City or Brooklyn Queens area in New Jersey. Read all the details about one of the scariest and best haunted houses in not only New Jersey but America. Hauntworld can help you find hundreds more haunted houses across the state of New Jersey and New York.
---
Nestled deep in the heart of central New Jersey, where legends of the Jersey Devil run rampant, visitors know that nothing compares to Corner of Chaos. With their years of success, trained actors, professionally designed haunted house attractions, growing popularity and recognition both locally and nationally, there is no one better qualified to bring Halloween entertainment to thrill seeking haunt goers.
---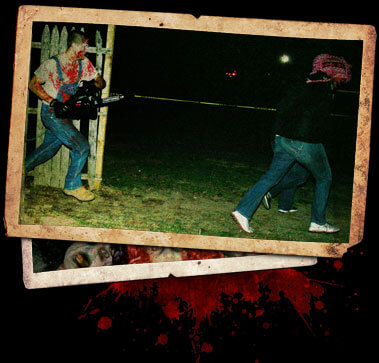 Designed to give visitors the maximum scare in a creepy, entertaining environment, Corner of Chaos - Scream Acres is more than just haunted trails; it's an atmospheric Halloween scream park. In 2008, Corner of Chaos of East Windsor, New Jersey began its tradition of creating the scariest haunted house, trails, corn maze, and hayride. That year, owner and program director, John Specca, along with his family and other dedicated crew members brewed up a haunt season of frights and horror like Central Jersey had never seen before—all on more than 100 acres of creepy farmland complete with frightening cornfields, swamp-addled woods and a sinister old farmhouse.

Corner-Copia Farm Market and Garden Center had graced East Windsor for twenty years when the idea struck to turn their nighttime flashlight corn maze into a full-fledged haunted attraction. The Specca Family and their employees prepared for the haunted theme park throughout the year. In just four seasons, Corner of Chaos grew from 1 walk-through attraction with several dozen employees and a few thousand patrons to 4 attractions with more than 150 employees and nearly 20,000 screamers from New York City to Philadelphia!

In the years since, Corner of Chaos has become a family tradition for haunt-seekers from New York City to Philadelphia and all around the Mid-Atlantic. Corner of Chaos is now one of the best haunted attractions in and around New Jersey featuring The Wicked Wagon Ride and the Barbaric Barnyard, an intense and brutal multi-award winning haunted trail.

"We make sure to tap into every phobia--whether it's snakes, clowns or flashing lights," says John Specca. "At some point on one of our four trails, you're guaranteed to be scared out of your wits."

In 2011, the park's free entertainment area expanded to include not only the food and memorabilia, nightly bonfire, and live rock music of past seasons, but also a Carnival of spectacular sights such as fire performances, sword and whip shows, and dance shows. This season also saw the premiere of the 4th haunted attraction, a haunted wagon ride. In 2012, the legend of Corner of Chaos was still growing!

Upon arriving at Corner Of Chaos, guests pass through creaky old gates where Death himself greeted them—standing eight feet tall and ready with a scythe to cut down unlucky mortals… or to pose for pictures with those favored by Fate. Beyond the gate sat the 'rundown' Chaotic Carnival Midway, complete with red-and-white striped tents, pale strings of lights looming overhead to illuminate the paths, jagged-toothed fences, slumbering hearses, bonfire, show stages, and several merchant huts. Guests who stopped in for souvenirs, t-shirts and hats enjoyed the concession stand's traditional Halloween fair food of funnel cake, cotton candy, hot apple cider, and more and had their fortunes divined by psychics and palm and tarot readers.

In the Midway where patrons wait in line for the haunted attractions, others shop the merchants or warm themselves by the nightly bonfire, while live performances can be enjoyed by all. On special nights, DJs and live bands play in the Phantom Jamz, a local music series hosted by Corner of Chaos. Beneath stunning thirty-foot tall crumbling castle turrets, The Straw Man's Masquerade dancers twirled, dipped and danced the night through to popular song mash-ups. Back by popular demand was Sideshow Inferno, the park's fire and circus arts show where ghouls and creeps juggled, hooped, danced, swallowed and breathed fire! The show also featured whip acts, sword-dancing, and balancing routines, all to the amusement and marvel of the haunt-hungry audience.

At Corner of Chaos, the scares were often brought up-close and personal, as several costumed characters roamed the grounds interacting and playing with their captive audience. Lucky guests could catch a hug or dance alongside their favorite twelve-foot clown monster, Blinky. Others suddenly found themselves trapped in line, surrounded by the undead.

THE WOODED WASTELAND: Abandoned laboratory, toxic waste, and fluctuating time-stream horrors

When a decrepit, abandoned laboratory is taken over by frenzied freaks, guests need to worry about more than the giant mutant rats and toxic killer plants! Even the time-stream itself isn't immune to the tampering of these would-be scientists. Beware the chemical spills and nuclear waste infested quicksand around every corner and whatever that ooze is that seems to be everywhere… Can you escape the wrath of a forest come to life?

Set in the dreary swamp and eerie woodlands of the farm, the Wasteland is a lengthy self-guided tour where the howl of the wind accompanies the laughter of lunatic scientists. Fog rolls in over the marsh; animals inch closer through the tall grass. Man-eating plants, giant mutant rats, toxic nurses, and vicious orderlies usher patrons into a portal to the past where ancient undead hide inside burial chamber tombs, demons sacrifice victims to their bloodthirsty masters, and giant spiders lurk beyond the quicksand hungry for flesh. The dark forest keeps haunt-goers on edge with fear their fate unknown as they cross rickety bridges with dim, atmospheric lighting their only guide to a safer place. This haunt is NOT for the faint of heart.

THE NIGHTMARE MACHINE: Newest haunted attraction in 2012…A completely redesigned and themed corn maze where humanity's nightmares are made real.

Not long ago, the cornfield was home to nothing more threatening than the scarecrows planted among the crop. All that changed when an exiled doctor with a squad of engineers and psychiatrists built a new breed of testing facility: the Nightmare Containment Units! ( NCU's ) After years of ridicule for his brutal testing methods, the NCUs were to be Doctor Killenstein's crowning achievement. But as the machine went operational, the units began malfunctioning. Crazed with ambition, the Doctor vanished into the bowels of his Nightmare Machine, intent on studying humanity's most base and primal fears! The remaining team moves forward with the Doctor's wishes, despite that the nightmares are leaking out into our world.

The Machine might seem like a traditional corn maze from first approach: lanky green corn stalks as far as the eye can see, fog drifting between the rows, screams riding on the wind. Inside the thinly cut paths, the darkest nightmares await. Patrons walk through and around high quality sets both in the corn and in converted shipping containers, the NCUs. Between the engine parts and boiler rooms, past the plague-riddled engineers trying to fight back the escaped nightmares, the paths are crisscrossed with sticky spider webs and lined with scarecrows.

Inside the NCUs, the Machine really shines as a sick and twisted fantasy. Shiny, chunky vomit slides in greens and yellows down the mold-blackened walls as flies buzz overhead, landing on anything that looks rotten enough. Cockroaches run from the shadows of the garbage mound, atop which sits the three and a half foot tall king of the roaches, ready for more than leftovers to munch upon. Maggots line the ground and ceiling, dropping onto unsuspecting patrons. Electric fences sizzle and crack, the smell of charred flesh in the air, as escaped convicts rattle their chains and intimidate haunt house goers, hoping to give them more than one kind of shock. The soft glow of television static backlights the corn where disjointed girls bend and contort, climbing from wells in jerking, unnatural motions towards their prey. Even the demented Doctor himself makes an appearance in his blood-slicked operating room, sick with the stink of old blood and a tray full of rusted medical instruments: needles, clamps, pliers, and whatever else he's found lying around. This macabre haunt shows no mercy in assaulting all the senses, unsettling the bravest of souls.

WICKED WAGON RIDE: Guided tour through the truly twisted tales

In the woods, ghouls may seem familiar, but their real stories are far more sinister than you ever knew! Corner of Chaos takes guests on a Wicked Wagon Ride through a cursed forest filled with murderous pig-faced brothers, bestial girls in bloodstained straightjackets and wild-eyed huntsmen. The wagons and Storytellers bring haunt-goers directly to the screams as they dangle their feet over the wagon's edge to discover tales of horror generations in the making, and there's no turning back!

On the Wagon Ride, the Corner of Chaos haunt team pulled out all the stops with this high action affair: over-the-top special effects, pyrotechnics, custom soundtracks, skilled stunt actors, and horrific creatures both on the ground and overhead. The wagon tours through a scarecrow-packed cornfield to a ramshackle town, deep into a toy-laden nightmare forest and fiery junkyard where visitors will be lucky to survive the full zombie-filled graveyard and wolf-child infested asylum. On each wagon, a unique citizen of the haunt hosts the trek through the woods. Like their counterparts in the ride, the narrators were equally twisted versions of childhood tales: big bad wolves, hook-wielding pirates, and murderous prom queens.

BARBARIC BARNYARD: (Fright Tour's Fright of the Year 2010 & 2011) A blood-curdling escape from the degenerate Butcher Family's farmhouse reunion

The Butcher Brothers once again opened their award-winning Barbaric Barnyard for public consumption, but watch out! There are deviants and degenerates lurking in this dilapidated farmstead. This claustrophobic and disorienting open-air walkthrough haunt is home to insane hillbilly horrors, eager cannibal clowns, lumbering butchers and crazed chefs, beautiful trapped victims, and camouflaged monsters in extreme and brutal live sets.

The goriest and most intense haunted house attraction at Corner Of Chaos, winds around a classic barn and dilapidated farmhouse, whose warped windows and flaking white paint are hidden beneath a decade worth of creeping ivy. With two dozen live actors, carefully constructed and placed pneumatic scares, and the infamous pitch-black finale, the Barbaric Barnyard is a heart-pounding, adrenaline pumping haunt not to be missed!

Throughout the haunted attraction, the richly detailed sets incorporate the living landscape and hundreds of hours of skilled painting, carpentry, and prop building artisanship. In fact, at Corner of Chaos - Scream Acres, elaborate costumes and a majority of their haunted house props and set-pieces are built on-site in the off-season by owner John Specca and his dedicated crew. During the season, make-up artists hand paint more than 150 undead mutants and monsters each night from the four attractions plus the midway, giving the haunt a distinctive horror flair all of its own. Bloody gore, burns, pustules, flaking and peeling skin, exposed bones, personalized prosthetics and special effects make for chilling detail on these infinity unique creatures.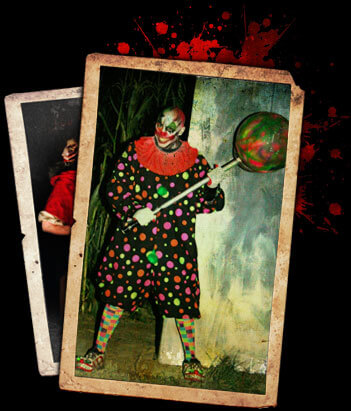 Corner of Chaos maintains its success and the continued growth of its haunted legend by hiring the most dedicated and excited actors and entertainers. Their performers and ghouls hail from not only New Jersey but also Pennsylvania and New York to be a part of the best events and haunted attractions in New Jersey. The people beneath the costumes, make-up and masks are at the heart of each night's chilling activities. In the months before the park opens, Corner of Chaos cast members receive special actor training, focusing on physical and vocal work and character development. The actors learn a variety of scare tactics aimed at terrifying all types of haunt-goers, whether through predatory stances and gazes, disturbing guttural vocalizations, jerking and unnatural movements, or demented dialogue. They also learn the ins and outs of their haunt, able to disappear and reappear throughout the trails, maximizing the fear through repeated scares and a unique understanding of their sets. It's not unusual to find a ghoul haunting from the trees overhead or crawling and twitching through the corn.

Many cast members spend their own extra hours on individual costumes and make-up to help create diverse nightmares for guests. Veteran haunters and managers work with actors new to the haunted attractions industry to teach them the craft and to pass on their years of knowledge and special training creating a team that one reviewer called "stellar… ridiculously high quality" and "the best of the best."
- www.onezumiverse.com

These dedicated men and women—some still in high school and others long into retirement and every age in-between—brave the rain, snow and cold all for the chance to scare the living hell out of every visitor that enters the scream park. As the monsters are put to bed, battle stories of the night's events are recounted of how many people ran into walls or jumped into a friends' arms; how many lost control of their bodily functions or wound up in a quivering huddled ball on the ground. There's no mistaking it…The ghouls at Corner of Chaos take their haunting seriously!

Additionally important for a customer service oriented haunted house is parking and convenience. Corner of Chaos - Scream Acres offer ample parking in three lots, all able to accommodate buses. In the secondary lots, guests are treated to a unique ride over to the Main Gate in the park's blacked out bus. The bus is available for return trips as well. The haunted park also hosts birthday parties and large groups when booked in advance.

For those looking for fun Halloween activities during the daylight hours, Corner of Chaos features kid-friendly events such as their annual Fall Festival. The daytime Family Fun Corn Maze, a self-guided walk through of artfully designed paths, have been delighting families for years. Past paths twisted and curved into the shapes of a Halloween Witch, snake-haired Medusa, and more.

Corner of Chaos opens in late September and continues every Friday, Saturday and Sunday night through Halloween weekend.
Please visit www.CornerOfChaos.com for more details about your next haunted visit. Can YOU survive?
---