Cleveland, Ohio's - The Fear Experience Haunted House
By Hauntworld Magazine
TO FIND MORE HAUNTED HOUSES IN OHIO CLICK HERE ...
http://www.hauntworld.com/ohio_haunted_houses
Ohio Haunted Houses are some of the scariest and best in America! Hauntworld.com rates and review the best and Scariest haunted houses, haunted attractions, and Halloween events in America! The Fear Experience is located in Cleveland, Ohio and has one of the scariest haunted houses in America! Prepare to scream! Sit back and prepare to scream through our review of The Fear Experience. This Halloween you can't miss the scariest and best haunted attraction in the entire state of Ohio, The Fear Experience. Their attraction features some of the scariest actors, crazies scenes, and amazing set design. Now sit back and read all about the best haunted house in the the Cleveland area, The Fear Experience. The Fear Experience is by far Cleveland Ohio's best haunted house and scariest haunted attraction and now rated and reviewed by Hauntworld.com. The Fear Experience features five different attractions in the same location and we will review the biggest, best and scariest haunted house in Cleveland Ohio.
To learn more about Ohio's The Fear Experience visit their websit below:
www.thefearexperience.com

TO FIND MORE HAUNTED HOUSES IN OHIO CLICK HERE ...
http://www.hauntworld.com/ohio_haunted_houses
---
From a backyard haunted house to tackling one of the toughest markets in the country, The Fear Experience has had to evolve to stay ahead. Their team has brought a new standard of quality to the Cleveland market which has captured people's attention. In 2011, the attraction was voted best in Cleveland, in 2013 it was named "Northeast Ohio's Premier Haunted House" and in 2014, the haunt set the stage for an internationally recognized music video.

The Fear Experience began years ago when the owners were just 12 and 15. Owners Max Simon and Nick Francis (now 19 and 22) are cousins and have been building haunted houses since they were kids. They first worked together in 2007 when Simon helped Francis operate an extensive haunted house Francis had constructed in his garage & backyard. They both had a passion for all things haunted and combined they became unstoppable.
---
Back then, the duo decided to build a massive home haunt and enter a national competition hosted by Good Morning America. They began building in the summer of 2008, and by fall they were putting the finishing touches on an elaborate 8,000 square foot attraction in Francis's backyard. "The haunt took up my entire yard; 7 years later the grass still hasn't grown back," says Francis. "We spent days researching our favorite horror movies and haunted houses and tried to incorporate some of the ideas we liked. The end result left our families amazed by the terror we created. Nobody believed we could build something that impressive."

They hired a professional videographer to produce the video that would be submitted to Good Morning America for the haunted house competition. "Our video received the most votes nationally but didn't manage to win. We found out on Halloween and were incredibly disappointed," says Simon. "It seemed like all our hard work was for nothing - that is until we opened our doors to the public later that night."

In just three hours of operation, over 500 people came to their haunt. Not bad considering it was in a residential neighborhood and they had no advertising. At 10 pm, the police showed up and shut them down, but by then Francis and Simon knew they were onto something. The two saw endless opportunity ahead. Of course, they couldn't keep running the haunt in Francis's backyard, so that night the young entrepreneurs decided they would open a commercial attraction the next year.

Fast forward to present day and their commercial haunted house attraction, The Fear Experience, has taken the Cleveland market by storm. "It hasn't been easy; Cleveland is competitive. Sometimes it seems there's a haunted house around every corner and some have been around for over 20 years," says Simon. "But for us, the competition acts as a constant stimulus."



Francis adds, "We believe the only way to keep haunted house customers coming is to put on the best, scariest and most entertaining show in the market, and that is our exact focus all day, every day at The Fear Experience." Their dedication to excellence in haunting is unwavering.

The Fear Experience is located in a 90,000 square foot, retail location about half a mile from one of the biggest interstates in Cleveland. The entire event is indoors, protecting its guests from Cleveland's cold and rainy fall climate. Covered waiting has been a key differentiator in a market where most haunts are outdoors.

The Fear Experience haunted house didn't start off in such a great spot, however. For the first few years the attraction jumped around to different temporary locations and the sets weren't quite on par with what Simon and Francis wanted. Simon commented, "We originally didn't have the time, money or skills to build the kind of sets our customers enjoy today, but we always made sure our customers had a great time. Instead, we crafted as many startles as we could and focused on making the show scary and entertaining. We knew we had a long way to go to achieve our goal… being the best haunt in the Cleveland market."

A stroke of serendipity came in 2011 when Rick Thomas, member of internationally renowned band Mushroomhead, guest acted at The Fear Experience. Thomas saw potential, "I could tell they were ready to take this haunt to the next level, and I knew I could bring the level of quality they needed." By this time, Thomas had been designing and building haunted houses for more than two decades. Over the years he had acquired a lot of experience in set design and show production that would become an essential aspect of The Fear Experience's rapid development. Haunted houses have always been one of Thomas's greatest passions along with music. When he's not touring around the world with Mushroomhead, he's working day and night at The Fear Experience. Thomas credits his love for building and designing haunted houses as his motivation to constantly make improvements to the attractions.

With the addition of Thomas as lead scenic designer, the team brought a level of quality and realism that hasn't been seen before in the Cleveland market. The haunts feature large, grand scenes and realistic, horrifying environments. The latest addition is a massive mausoleum style entrance that customers actually walk through to reach the box office. Francis described the thought process around the project, "We wanted to build an entrance that would amaze our customers the second they walked in the door. Now you're not just waiting in line to buy a ticket, you're walking through something you've never experienced before. It's probably one of the coolest sets we've built to date."


There's another very practical reason for the new entrance. Haunted houses have gotten expensive; it can easily cost $100 for a family of five. Francis and Simon wanted to assure their customers, before they paid, that they made a great choice by coming to The Fear Experience. The best way they could think to do that was to build an interactive scene right in the front door.
The incredible new sets have opened doors to amazing opportunities. Most recently, the band Mushroomhead chose to film their latest music video entirely at The Fear Experience. The band thought the haunt would be the perfect place to shoot the music video for one of the album's top tracks, Qwerty. Mushroomhead's new album, The Righteous and The Butterfly reached #1 on the Hard Rock chart and made the Billboard Top 20. "We were really honored to have such a recognized and loved band choose our haunt to shoot this video. It turned out amazing, we were blown away by the end result" says Francis.
Today, The Fear Experience features four haunted houses under one roof. Each attraction has its own unique theme, but they are all tied together by one riveting, overarching concept. The attractions reside in the city of Centralia, based off a real city in Pennsylvania that has a tragic and gripping past. Centralia was once home to the largest coal mines in the United States but is now a ghost town. In 1962, a few local residents accidentally started a fire in one of the mines and it's been burning non-stop ever since. The rampant fire has made the baron city uninhabitable and destroyed much of its infrastructure. Centralia has also been the inspiration for a number of famous horror movies including Silent Hill.
The latest addition to The Fear Experience, The Centralia County Fair, debuted in 2013 and was a crowd favorite. The first half of this haunted attraction is designed like an outdoor fair. It features a huge destroyed midway, a creepy back alley and rotten food truck. The guests are then chased through a giant clown's mouth into the circus section. Although it has its fair share of clowns, the team at The Fear Experience wanted to do something more unique. Their idea was to create a freak show and zoo that houses all of the circus' sideshows. All of the actors in this section are elevated above the customers' heads, creating a very intimidating effect. "The finished scenes terrify guests," says Thomas Thomas "We designed each room with the actor in mind. Actors can climb and jump around the rooms so quickly that people don't know where a creature might pop out from next."
When the team isn't working on building new haunted house attractions, they're working on marketing. They want their marketing pieces to identify The Fear Experience as the go-to haunt in Cleveland. Their first move was to hire one of the top horror photographers in the area, Blind 7 Photography also known as the "Godfather of Dark Glamour" to shoot their characters. Simon commented, "We wanted to use real photos on all of our promotional pieces; we felt that type of realism would capture people's attention." Another big step was their website,
www.TheFearExperience.com
. The site was designed to be simple and easy to navigate with all the most relevant information right at your fingertips. The site is also very mobile friendly. "We saw that about 50% of our traffic was coming from mobile devices and we knew our site needed to be just as easy to use from a phone" says Francis.

Their website is not their only online presence. The Fear Experience Facebook page has over 61,000 fans. "That's more than any other haunt in our market!" says Francis who manages the page. "I try to post and interact with fans daily." He strives to use Facebook to build real relationships with customers so that when haunt season rolls around, they know exactly which attraction they're going to.
Simon, Francis, and Thomas expect a bright future for The Fear Experience. The three are dedicated to improving the show every year through additions, scenic development and constant innovation. New, creative ideas fuel the changes made from year to year. They want to provide each haunt guest with an incredible experience that they can't get at any other Cleveland haunt or haunted house nationwide. Their goal is for each guest to leave remembering at least a few very concrete things that scared or amazed them. Francis and Simon closed by saying, "We will continue to bring true quality and the highest level production value to the Cleveland market. Cleveland is a great town and deserves the best haunted houses in the world, and we want The Fear Experience to lead the charge."
TO FIND MORE HAUNTED HOUSES IN OHIO CLICK HERE ...
http://www.hauntworld.com/ohio_haunted_houses

I've known the owner of Seven Floors of Hell, Rodney Geffert, since the days when he posted on the Hauntworld Message board forum on a daily basis selling all kinds of cool used stuff. He had the knack for finding and re-selling so much used equipment that I knick named him 'Fred Sanford' from the popular television show. I talked to Rodney often, but back then his haunt was located in Akron, and some years he would say his attendance was up and other years it was down. After reading this article you will realize it wasn't until Rodney, moved his attractions to Cleveland that he finally made it in the haunted house industry. Through this article we'll explore what it took for Rodney to create Seven Floors of Hell from his early days in Akron, Ohio. So grab your pitchfork we're going to HELL and back again!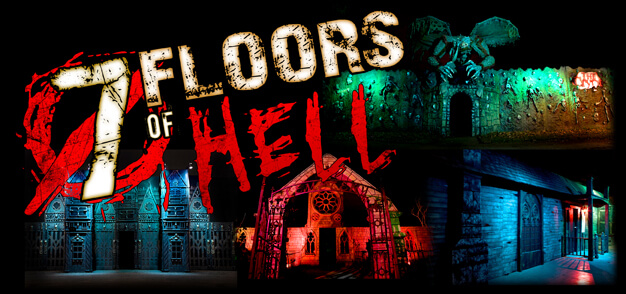 HauntWorld: Rodney, we've known each other for a long time. It seems like you've gone through a lot of different haunted houses, cities and locations to get where you are now. Tell us about how you got into the haunted house business and what you've gone through.

7 Floors of Hell: First off, let me thank HauntWorld for coving our event. I started off working at many haunted houses when I was in high school and loved Halloween more than anything, I actually worked for Tom Goddard before he decided to sell off his property, Haunted Hill Farm Haunted Hayride, located in Copley, Ohio. After that season I wanted to open my own haunted house, but financially I was broke had no money, no credit cards, nothing. There was no one I could borrow the money from to get started. So, I started planning and came up with just a few thousand dollars and found a location. I don't like to think about that first year from a business perspective, but it was a start and more than anything it was fun. I only had a few thousand dollars invested, and I didn't make any money that year, but I sure didn't lose any either. After our first season, we moved on to a new location and did much better. Not knowing too much about the industry at that time and not knowing any other haunters, it was truly a struggle trying to learn and do everything on my own. But, every year I would put 100% of what I made back into the show to keep taking it to the next level. We operated in the Akron, Ohio area for 8 years.

HauntWorld: Why did you make the move from Akron area to Cleveland?

7 Floors of Hell: After running our event in the Akron area and not being able to reach the attendance numbers we wanted, my wife Melinda and I had to make a tough decision…Do we stay in this market or do we look for another area and move our event? The Cleveland Market was saturated with haunted houses but was really the only market within reasonable traveling distance. Cleveland was a huge decision. First, we had to find a great location and the main question in my mind was…How can we compete with haunted houses that have been in the market for 20+ years? Well most of the events in Cleveland were small shows with only 1 haunt and sq.ft of around 4000. Most of them were charging admission price between $8.00-$10.00. We knew we had to come up with a huge event and market it as such to even compete. I found a prime location at the Cuyahoga county fairgrounds located just minutes from downtown Cleveland and right off a major highway. I wasn't big on moving to a fairground, but a good location was very hard to find, and where the fairgrounds were located was probably one of the best locations in all of Ohio.

HauntWorld:
So tell us why did you picked the name "7 Floors of Hell'?

7 Floors of Hell: As a young child, I loved haunted houses and each Halloween we went to every haunted house in the area. The one thing we would always hear standing in line was about a haunted house in Cleveland known as the '7 Floors of Hell'. It was supposed to be so scary that no one had ever made it through. It was talked about more than any haunted house. Well, it wasn't real; it didn't exist. I gave it much thought and determined this would be the right name for my event. I just knew that with the location I found, the name would be perfect.
HauntWorld:
A name like that can be risky. So many haunted houses have moved away from 'Hell', 'Satan', and things of this nature. Has it worked out for you? Have you seen any backlash?
7 Floors of Hell:
The first year we opened, it was a huge hit. People came from all over to see the haunt they had heard about since kids. The only backlash from the name was with sponsors. At first it was very hard to get sponsors to work with us. Finally, after several years, sponsors started knocking at our door and wanting to be part of our event. Teenagers love the name, and it's a name they will never forget. And year after year, the crowds get larger and larger. Years ago, the name might have been offensive but not today.
HauntWorld:
How many different haunted houses do you feature at '7 Floors of Hell'?
7 Floors of Hell:
Seven. (1) Black Out: 2800 sq.ft. of total darkness with a Scarefactory 'house of the dead' facade in front. (2) The Cemetery: 7000sq.ft with over 100 tombstones. This house has over 30 animations. It's like walking thru an old cemetery from start to finish. The facade is a mausoleum with lots of rod iron fencing and statues with a Scarefactory 'scissor serpent' out front. (3) Insane Asylum: a 4800sq.ft. prison-themed haunted house. Distortions Unlimited custom built the facade with a shake and bake electric chair out front. (4) The Crypt: 4800sq.ft. haunt with over 3000 skeletons and bones to detail the walls. You must pass under a Slayer before entering this house. (5) Psycho Circus in 3-D: 4800sq.ft. of crazy clowns. The facade is a 14' tall evil clown to walk thru and enter the Vortex tunnel. (6) Our most popular house, The Butcher Shop: 4400 sq.ft. of nothing but blood guts and gore with over 100 Unit 70 Studios gory bodies. The facade is an old butcher shop with 3 Ghost Ride kicking pigs hanging out front. (7) The House of Nightmares: 8000sq.ft. with over 30 rooms and 100+ animal heads. It's very detailed. The facade is an old looking house with a Demon Knight that comes out.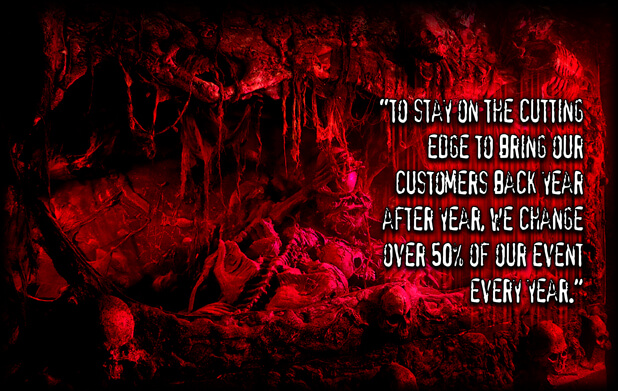 HauntWorld: How much of your event do you change each season?

7 Floors of Hell: The one thing we have found is that customers want to see changes; they don't want the same show year after year. If we only change a room here and there, who would ever notice? So to stay on the cutting edge to bring our customers back year after year, we change over 50% of our event every year. It's a lot of work, but it makes a difference. We just don't change a room here and there; we will bring in three to four new shows the following year. We will do whatever it takes to keep the show fresh. A few years ago, we purchased a Distortions Beast inflatable just to use for one season.

HauntWorld: You're known for TONS of animations in your show, so tell us exactly how many you do have, and why you have so many.

7 Floors of Hell: I have always loved animations. I feel it's something the customers just don't see every day, and if their used in the right areas, they do a great job. Our goal is to use at least one animation in every room of every house. Some rooms have as many as 5 animations. In total this season we had over 100 animations. In the 2006 season, we had 160+ animations.

HauntWorld: Do you think animations are more effective than actors? Have you seen any backlash to more animations than actors?

7 Floors of Hell: Animations do their thing and actors do theirs. Would I say one is better than the other?... They both have their pros and their cons. With animations, you have to set them up, mount them down, run air lines, air compressors, and there's maintenance on them too. Did I mention air compressors? It takes twelve 80 gallon air compressors to run all of our animations. This all takes time to deal with. We use a lot of actors in our event, but it just never seems like enough. It's very hard to run 7 haunted houses at 1 location. We have to keep our 7 houses spread apart just to handle large crowds, and when you have 100+ actors spread out, it's very hard to manage. We have a great crew. But, every season there's a hand full of actors that are like animations… Sometimes they work and sometimes they don't. This is a work in progress which, we are going to get right this season.

HauntWorld: You have more of a 'theme park' style operation. Explain to us what you offer and how you guide your guests through the park. In other words, how does your attraction operate?

7 Floors of Hell: We have to be more of a theme park operation. We have Cedar Point just 70 miles West of us and Six Flags just 60 miles East of us. So from day 1, we had to have the theme park atmosphere. From the time customers pull in and park, they can see all of the 7 haunted houses and the elaborate facades. As customers enter, they make their way to our ticket booth. Once a ticket is purchased, they can go thru any haunted house in any order. Just like a theme park, you pay admission and you're free to go to any attraction. We offer full concessions from 8 different food venders and a Halloween merchandise shop.

HauntWorld: What kind of que line entertainment do you offer?

7 Floors of Hell: Customers can spend several hours outside of the haunts, so we entertain them with 1 animation in front of every house to fit the theme of the house. We also have 1 actor in front of every house in full makeup and costume to fit that houses theme. Also, 6 actors roam between the houses. For this year, we have decided to step up our outside entertainment. At the IAAPA convention we sat down with Lifeformations to custom build us several audio animation characters. One of the pieces is a custom Dr. Backtolife figure that will be on a stage with a full light show and sound system programmed to sing 35 songs. These are very expensive pieces, but they will do their thing and entertain our guest.

HauntWorld: You have received a lot of national press, and from what I understand, you are breaking all kinds of attendance records. How does the large crowd impact operations at your event?

7 Floors of Hell: The one thing we have that helps out is that we have so much room. Our houses are spread out over 20 acres. Customers can go to any house in any order. We have found this is how Universal Studios does it, and it has worked out great for us as well. Speed pass is something we just started a few years ago, and it's a hit. We have separate lines for this and it makes a difference. Friday and Saturdays are starting to get very crowded. We use local police offices to monitor the event, and we have a great staff that oversees the event and is ready to deal with any problems that may occur. Each year our attendance has gone up and this is also on our list to deal with this season as well.

HauntWorld: What is your philosophy on scaring guest on those busy nights and how does it differ from your slower nights?
7 Floors of Hell: There's no doubt that Thursdays and Sundays are the best nights for customers to come out and see the event and get a good scare, but it doesn't happen that way. It just seems that everyone would rather come out and wait in the long lines on Fridays and Saturdays. This is definitely something we are working on this season for improvement. On Fridays and Saturdays, there are so many people at the event, we are forced to rush them or they will never get to see the entire show. We have increased our crew to over 100 workers on these busy nights, but it still seems like we are under staffed some nights. This season we have decided on the busy nights to up our crew to 125+.

HauntWorld: As you've made your way through the haunted house industry, and tried to gain knowledge and experience have any haunts or things you've seen in the industry inspired you?

7 Floors of Hell: Well it's much different now than when I started 13 years ago. Back then, it was totally different. I didn't have the money to travel. Now, that's what I try to do every season. It's very hard to break away from your show but you just have to do it. I have traveled all over the country and have seen hundreds of haunted houses, and I'm always inspired to see what others are doing different. This year was the first year in 8 straight years that I didn't make it down to see your show, Larry, but the one thing that I would have to say inspired me more than anything was the first year I saw The Darkness inside the old baby carriage factory. Your show was the largest that I had ever seen. You personally gave my wife and me a tour. I'm not sure if you remember or not, but I destroyed my ankle earlier that year and was on crutches. I was so amazed, and about 30 minutes into the tour, I was so exhausted I had to just stop and sit down. I remember asking you how much longer is it? You said we are about half way! I still get a laugh out of that. It was the longest haunted house that I had ever seen, and I was so amazed by the rooms and sets.

HauntWorld: I know you've seen a lot of different haunted houses in this industry, which ones are your favorites and why?

7 Floors of Hell: I have seen a lot of haunted houses and again The Darkness has always amazed me. My wife and I loved Terror On Church Street in Orlando. In its early years, the detail was amazing. The Beast and Edge of Hell in Kansas City have always stood out in my mind as my favorites with 2 huge buildings with multiple floors and a show that is nothing but amazing. I have been there 4 times, and I'm always impressed.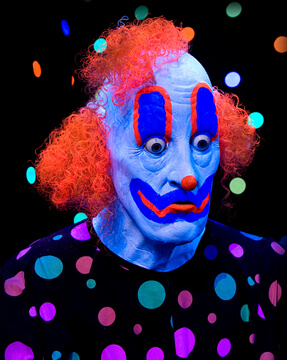 HauntWorld: Tell us how your MAJOR publicity event happened (Haunted Wedding) and what was the impact of that PR on your show?
7 Floors of Hell: Two of my workers Tina Milhone, make-up artist, and Rob Seifer, my right-hand man for installing the haunts, decided to get married and approached me early in the season to ask if they could get married at the event on a day we're closed, Wednesday the 24th. I really didn't think about the wedding getting lots of attention or anything like that. A few days before the wedding, they asked me a few questions and I had a few crazy ideas. They wanted their haunted wedding to take place out front of our Cemetery haunted house, and everyone invited were asked to come in costume. I offered to deliver the groom to the wedding in the back of my 74 Cadillac hearse in a coffin. Six pall bearers would then remove the coffin and carry it to the alter where he would await his bride. The colors were Blood Red and Black and the theme was "Love Never Dies." The night before the wedding, I decided to send out a few emails to local news stations and local newspapers with all of the details of the wedding. The next day about 1 hour before the start of the wedding I pulled in, and my jaw dropped. There was every news station in Northeast Ohio there with about 5 vans of antennas 40' in the air. Every newspaper was there as well, even the Associated Press. I'm still in shock! This made news coverage for 5 straight days in the Cleveland market, plus it was seen around the world in almost every city in the United States. It was seen on MSNBC, USA Today, The Today Show, and on the front page of Yahoo for a day. We got so much coverage from this, that every day until the 3rd of November was nothing but a mad house at our event. It was truly an amazing wedding. To show our thanks to Rob and Tina, my wife and I provided them a honeymoon trip to Universal Studios - Halloween Horror Nights.

HauntWorld: Is most of your event tore down every year? How long does it take you to install the event and tear down the attractions?

7 Floors of Hell: It's the one thing that stresses me out more than anything, setting it up and taking it down. 100% of our event has to come down each season. We start set-up in the middle of July and work 7 days a week14 to16 hours a day to get done in time for opening. Tear down goes much faster. We have to get the event down as soon as possible. We are located in Cleveland just about 15 miles from Lake Erie and weather and lake effect conditions aren't too friendly in November. Tear down takes about 12 days. Everything is packed in our fleet of 27 semi trailers.

HauntWorld: In the ever changing media world, what are your best marketing tactics these days? What are some of the effective ways you have promoted your attraction to the public?

7 Floors of Hell: We do a lot of advertising. Radio is our #1 source, billboards, newspaper, and coupons distributed with our sponsors. The one thing that has really made a difference is the sponsors that work with us. We print 2.5 million coupons for our sponsors to pass out. T-Mobile is my biggest sponsor. They have over 800 locations in Northeast Ohio that distribute our coupons on their counters. As well, we have other sponsors: Marco's Pizza (48 locations), Hollywood Video (26 locations), Popeye's (19 locations), Spencer Gifts, Spirit Halloween, and Pepsi.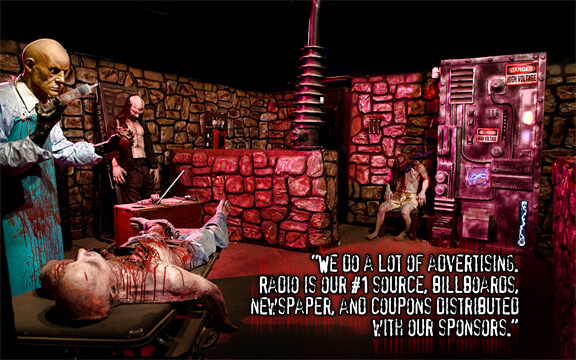 HauntWorld: What changes are you making? What new attractions are you adding for 2008?

7 Floors of Hell: We will be adding several pieces from Lifeformations for outside entertainment. On the haunted houses, we start to make these decisions right after Transworld Haunt Show. We want to see what's new to determine what we could use in our event. We have sold off 3 of our haunts from the 2007 season, and are deciding what to replace them with. One of our new shows this year will be some kind of old campground with a forest and lodging quarters. This season, we have decided to cut back on some of the animations and really up our actor crew.

HauntWorld: I heard you have some exciting news…You built a new house just down the street from a Famous Cleveland resident. Who would that be???

7 Floors of Hell: After 13 years in the business, we were finally able to buy a piece of property in the nicest area in Ohio. We built our dream home with a 4000 sq.ft. shop right in the backyard. It's just down the road from Lebron James' 8 million dollar mansion.

HauntWorld: Over the past couple of years, you've held a MAJOR haunted house auction in Ohio. How did that come about? How did it turn out and will you do any more in the future?

7 Floors of Hell: The reason for the auction was to sell off lots of our items from one season to the next. We change our show so much that every season we have trailers and trailers full of props and animations that just sit there. So I decided to have an auction and sell these items to other haunters. The first year the auction went very well. I was very pleased. Some items even sold for what I paid new. So I decided to have another auction the next season too. That was a bad idea. I feel that with the first auction doing so well, no one wanted to come back the following year. Everything went very very cheap. I didn't mind selling the items. It was just selling the items for pennies on a dollar that made it hard.

HauntWorld: You have a MAJOR reputation among haunted vendors as a BIG spender. How much money do you spend every year on props and when you walk into a vendors booth do they stand at attention? LOL. What kind of props do you look for from haunt vendors?
7 Floors of Hell: I feel that it all goes back to 12 years ago when I first attended Transworld. I didn't have a dime to buy anything, and it was very hard walking around seeing all of the cool items but not being able to buy one item. That's probably my problem now. Yes, I do buy a lot of items. It just depends. I'm not set on a budget now, so that's a very nice feeling. If I see it, and I like it, I'm buying it. On average we spend around 150,000.00 at Transworld each year.

HauntWorld: I think we're about to wrap this up Mr. Rodney… Let me ask you a really stupid series of questions. Favorite movie of all time? Favorite horror movie? Favorite haunted house vendor? Favorite hobby? And last but not least…favorite HAUNTED HOUSE WEBSITE? LOL.

7 Floors of Hell: There's so many different ones out there, I just couldn't pick one. Favorite haunted house vender, I would have to say Bo and Brady of Unit 70 Studios and Ed and Marsha of Distortions. Their customer service is the best, and they're always available when you need something. You can't go wrong with these guys! My favorite hobby would be my sports cars. My favorite Haunted House website?...It couldn't be anything else than HauntWorld!

HauntWorld: Anything else you'd like to add Rodney?

7 Floors of Hell: I would truly like to thank HauntWorld for the opportunity of sharing our event with the readers.


Haunted Fast Facts:
Name of Haunt: 7 Floors of Hell
Website:
Location: Cleveland Ohio
Nights Open: 27
Admission Price: $22.00
Annual Attendance: 61,000
Marketing Budget: $200,000.00