The Ungrounded Thriller Maze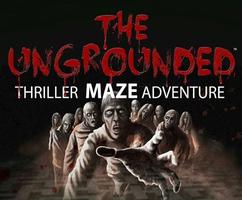 ABOUT "The Ungrounded Thriller Maze"
The Ungrounded Thriller Maze is an attraction under Camp C.O.R.E. LLC based out of Atlanta, Ga, This is the Thriller Maze first year and we plan to make it better and better each year and expand across the country. The Ungrounded Thriller Maze is a fantasy based maze adventure that will leave you thrilled!! You can go in solo or as a group of people (up to 10). Enter the maze with 25 minutes to escape, needing to solve with riddles and defend yourself from zombies and other supernatural beings to help you guide your way out. There is only one problem, or...a few problems... the maze is filled with supernatural beings!!! zombies and a hungry beast!! You will be equipped with guns (NOT REAL OF COURSE) to protect yourself as you navigate through this one of a kind thriller maze. Choose your team wisely if you want to survive. Courage, awareness, puzzle solving skills, cunning and team work prowess must all come together to escape with your life. Your lives depend on your brains. ATTRACTION DOES REQUIRE RESERVATIONS

Haunted Houses

Suitable for all guests and families (HALLOWEEN FUN)
Join our email list to receive discount offers and updates.
Ticket And Price Information
Tickets are based off of reserved times. Please visit website to purchase time. - $25

VIEW CALENDAR
Opening Oct. 2 though November 1st. Thursday and Sunday, 7pm-10pm Fri and Saturday, 7pm-12am - *There are additional savings at earlier times later in the month.
3845North Druid Hills Road, Decatur, Georgia, 30033
WARNING!! This is a aze with 4 feet hallways. If you have claustrophobic issues, you have been warned!!