Thunderbird Trail of Fear

The Thunderbird Trail of Fear in 2013 (our first season with the new haunt location) quickly became the 2nd highest rated haunt in Oklahoma behind the Trail of Fear Haunted Scream Park in Lawton. This is something we are very proud of!! We have SIGNIFICANTLY expanded our Scream Park for 2015.... Featuring 2 haunted attractions at 1 location: The Rotting Dead: Reckoning An infection has spread all over the world and news reports have identified a ROTTER horde just east of Norman, OK. Help save humanity by loading up on our custom made battle wagons, ride through a terrifying forest, and blast your way through the ROTTER horde with custom paintball guns. Can you shoot your way out to save what's left of humanity? Hackensaw Haunted Hill After disappearing from Southwest Oklahoma in 2008, the family has returned with a hunger unlike any hunger before. The family devours trespassers when they are found on their land. Try to escape before being captured and eaten by the demented Hackensaw family. For 2015 The Magic Guild The various magicians of the Magic Guild will be onsite demonstrating various impossible feats and illusions right before your very eyes. Performing each night with shows every 30 minutes!! Visit WWW.TRAILOFFEAR.COM for complete information on all our haunted attraction locations.
14501 East Etowah Rd, Noble, Oklahoma, 73068
This attraction is miles from your location. MAP IT NOW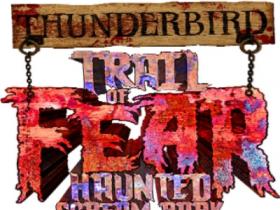 ...to the Thunderbird Trail of Fear's 3rd season of TERROR! In 2014 the Thunderbird Trail of Fear, Oklahoma City Metro Area's highest rated haunted attraction, was quickly ranked the #2 top rated haunted attraction in the entire state of Oklahoma!! This October…. FEAR will again surround the Metro area….. Can you survive the all new Thunderbird Trail of Fear!!
Please visit www.trailoffear.com for complete information about all our haunted attractions

Please visit www.trailoffear.com for complete information about the Thunderbird Trail of Fear! - Gates open at 6:30pm, ticket booth closes at 10:00pm (Depending on the line to buy tickets)
14501 East Etowah Rd, Noble, Oklahoma, 73068